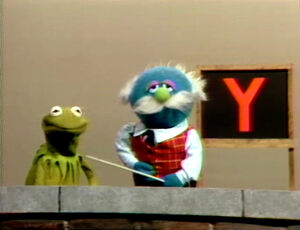 Picture
Segment
Description

SCENE 1
Gordon introduces today's sponsors, one of which is the letter Y.

Cartoon
The life of a Yellow Yahoo
(First: Episode 0043)

Cartoon
Y is for Yo-Yo
(First: Episode 0036)

Muppets
Professor Hastings talks about the letter Y. As usual, he drifts off and Kermit the Frog has to remind him what he's teaching. When the frog's response is "Y", Hastings answers, "Because I forgot."

SCENE 2
Mr. Hooper closes his store for a few hours to tend to his ailing sister. Susan offers some help, since she used to be a nurse herself before she was married, but he's okay. She passes by Gordon, and he thinks she's got something on her mind.

Muppets
Ernie & Bert — Bert has a number 4 in his hand, and asks Ernie what it is. Ernie says it's a chocolate cream pie. Bert points him to a film about the number 4.
(First: Episode 0006)

Film
Four Song (Song of Four)
(First: Episode 0006)

Muppets
When the clip is over, Ernie guesses that the 4 is a banana cream pie. "If this 4 is a banana cream pie, then what is this?" asks Bert, while he pulls out a pie. "That's a 4!" Ernie grins, and Bert pushes the pie in Ernie's face. "I knew what it was all along," Ernie remarks, "but who wants to get hit in the face with a 4?"
(First: Episode 0006)

SCENE 3
Gordon and some kids read a newspaper headline: "Nurse shortage critical". He has the kids look for an L.

Cartoon
L is for Ladder
(First: Episode 0036)

Cartoon
L is for Lunchbox
(First: Episode 0031)

SCENE 3
cont'd
Gordon asks if they can find a U.

Cartoon
"Poverty U" -- A figure gives a salute to the letter U, and presents the letter with a bouquet of flowers.
Artist: Cliff Roberts
(First: Episode 0036)

SCENE 3
cont'd
Susan compliments the kids on their reading skills. Gordon addresses her about what's on her mind: the nurse shortage mentioned on the headline. It's been making her think she should go back to being a nurse. Gordon supports this idea, so she happily leaves for the public health office. Gordon notes how happy she is now, and then points to Bob and Oscar.

SCENE 3
cont'd
Bob and Oscar sing "Happiness Is", each with their own interpretation. Oscar observes that being grouchy makes him happy, but he doesn't like being happy, and soon begins repeating himself. Gordon looks up in the sky and sees the Anything People.

Muppets
The Anything Muppets sing "Up, Up and Away."
(First: Episode 0049)

SCENE 4
Gordon has a cylinder, hollow, both ends open. He asks the children if they can tell, from the point of view of the cylinder, what's over, around, through, and under. He introduces Batman.

Cartoon
Batman apprehends a criminal thanks to knowing about around, up and through.

SCENE 4
cont'd
Gordon introduces Alice.

Cartoon
Alice Braithwaite Goodyshoes teaches about through.
(First: Episode 0001)

SCENE 5
Gordon and the kids observe a live cow. Susan comes back from the health office, and goes inside to see if her old clothes still fit.

Cartoon
Y is for Yo-Yo (repeat)

Cartoon
The life of a Yellow Yahoo (repeat)

SCENE 6
Big Bird practices reading words around Sesame Street, but there's one word he hasn't mastered yet: "ABC-DEF-GHI".

Muppets
Kermit's Lectures: Kermit talks about hair. According to Kermit, "Hair is a part of you. It is not a part of me, because I am a frog." He points out that some people have hair on their heads, while others have it on their faces. But if you have hair all over your body -- like Beautiful Day Monster, who emerges brushing himself and singing "A pretty girl is like a melody ..." -- then you're a monster!
(First: Episode 0028)

Cartoon
A boy counts while erasing things and people.
(First: Episode 0008)

SCENE 7
Gordon, Bob and the kids look at a live rabbit and her bunnies. Gordon introduces the next film.

Film
A mom and her son comment on a film of various animal babies and their moms.
Music: Joe Raposo

SCENE 7
cont'd
Susan emerges in her nurse uniform, which still fits. She reads a book to the kids: Whistle for Willie by Ezra Jack Keats.

Cartoon
While fishing one day, a boy catches the letters of the alphabet. Frustrated at not having caught any fish to eat, he decides to use his catch for alphabet soup.
(First: Episode 0004)

Cartoon
Y is for Yo-Yo (repeat)

SCENE 8
Susan re-emerges in her regular outfit, and asks Big Bird to hold a vase in a paper bag while she goes to answer the phone. He drops the bag, and the vase shatters. Big Bird is worried …

Cartoon
Jazz #5
(First: Episode 0005)

SCENE 8
cont'd
Big Bird, feeling guilty for having broken Susan's vase, decides to pack up and run away from Sesame Street. Susan encounters him, and he dodges the topic, but eventually gives a tearful confession. Susan reveals that it wasn't a vase that broke — it was an empty pickle jar. Big Bird feels relieved, and Susan invites him to play a game. Can he guess what this is?

Film
Close-ups of a tomato are shown.
Music: Peter Schickele
(First: Episode 0006)

SCENE 8
cont'd
Big Bird guessed it right! Now, what about this?

Film
Skin is shown in close-ups.
Music: Peter Schickele
(First: Episode 0010)

SCENE 8
cont'd
Susan has to go back to the health office, so she asks Big Bird to sign off for her.
Community content is available under
CC-BY-SA
unless otherwise noted.