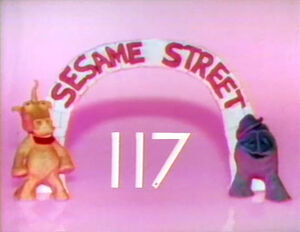 Picture
Segment
Description

SCENE 1
On the steps, Gordon, Bob, and the kids welcome Odetta Holmes, who sings "If I Had a Hammer". Gordon introduces her to each of the kids by name.

Cartoon
"Poverty U" -- A figure gives a salute to the letter U, and presents the letter with a bouquet of flowers.
Artist: Cliff Roberts
(First: Episode 0036)




Muppets
Ernie & Bert — Ernie and Bert have difficulty scratching their backs, so both help each other scratch their back. While Ernie's itch takes a little too long to scratch, he introduces a film called "Everybody Scratch." After the film, Ernie notices that Bert has stopped scratching his back; Beautiful Day Monster is.
(First: Episode 0012)

SCENE 2
Bob reads a letter from Kermit the Frog, asking for them to sing a song about frogs. In response, Odetta sings "Froggy Went A Courtin'".

SCENE 2
cont'd
Bob says that song takes care of Kermit, but how about us? Odetta sings Woody Guthrie's "Why Oh Why?"

Cartoon
"Egg Chant": A girl skips rope as a boy sits with an egg on his knee. They recite an alphabet poem together. The egg hatches and a dancing lizard emerges.
(First: Episode 0003)

Cartoon
A short poem about a pirate and his puppy demonstrate the letter P.
(First: Episode 0057)

Cartoon
Speech Balloon: P - Pin
(First: Episode 0054)

Film
A boy paints a picture of a porcupine on glass.
(First: Episode 0064)

SCENE 3
Gordon observes a brush tail porcupine in the Pet Shop window.

Film
An itchy wombat scratches its four legs.
Music: Joe Raposo
(First: Episode 0008)

Film
Four Song (Song of Four)
(First: Episode 0006)

Muppets
Anything Muppets sing a round of "Four Blind Mice". (beginning edited)
(First: Episode 0009)




Muppets
Gordon asks Ernie to put three balls and a balloon into four small boxes. When Ernie learns the trick, he tries to play the game with Cookie Monster.
(First: Episode 0008)

Cartoon
A Gary Owens-voiced man attempts to discuss the letter I, but is jeered by an offscreen voice. The man uses him as an example of the word "impolite".
(First: Episode 0032)

Cartoon
Speech Balloon: I - ice cream.
(First: Episode 0033)

SCENE 4
Odetta sings a game song: "You May Go 'Round the Needle" as the kids participate.

Film
Body Parts vs. Heavy Equipment: Three boys (including Brian Henson) pretend to be steam shovels, playing in the dirt. This segues into footage of real construction vehicles. A parallel is drawn between the machinery and how the boys' arms and mouths work.
(First: Episode 0003)

SCENE 5
Bob and Odetta do two rounds of "Three of These Things" with pictures of shapes.

Muppets
Ernie & Bert — Part 1: Ernie, having set up shop as a barber, gives Bert a haircut, but he ends up removing all of his hair.
(First: Episode 0068)

Film
Five Song (Song of Five)
(First: Episode 0006)

Muppets
Ernie & Bert — Part 2: Ernie tries to disguise Bert until his hair grows back, but a monster (later known as Grover) mistakes Bert for his father and lugs him away.
(First: Episode 0068)

Cartoon
Jazz #5
(First: Episode 0005)

Muppets
Ernie & Bert — Part 3: Bert has quickly grown his hair back, but his brief time amongst monsters has resulted in his speaking like Cookie Monster.
(First: Episode 0068)

Film
Counting 11 eggs and one cookie.
(First: Episode 0002)

Muppets
Cookie Monster: After watching the "eggs and cookie" film, Cookie Monster demands a cookie. A mysterious talking hook appears from the sky, and responds by giving him a book instead. Cookie is surprised, "This not cookie...this BOOKIE!" He then exchanges the book for lots of cookies, which rain on him.

SCENE 6
Everyone gathers on the steps again, and Odetta sings "Little Red Caboose".

Film
Kids paint a picture of a porcupine on glass. (repeat)

SCENE 7
Bob greets the kids in the yard with three great danes.

Film
Footage of various bird species including hens, flamingos, pigeons, owls, ostriches, cockatoos, and others.
Music: (piano and whistling) Joe Raposo
(First: Episode 0019)




SCENE 8
Odetta sings a song with lyrics from The House at Pooh Corner Chapter Four. Bob comes by again with the dogs and Odetta sings another song as Gordon announces the sponsors in voiceover.




CLOSING SIGNS
Ernie and Bert hold up the Sesame Street sign while Cookie Monster holds up the CTW sign at the end.
Notes