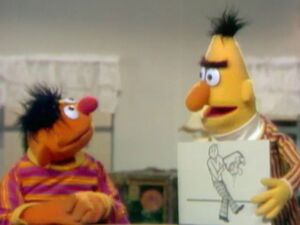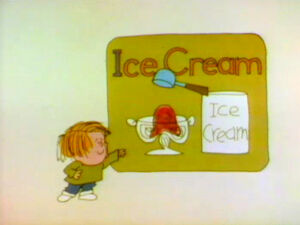 Film: "Where a Letter Goes" -- a film about mail delivery.
Film: "ROUND" -- A live-action film shows circles in everyday life, from Coca-Cola bottle caps, to moving wheels, to yo-yos, bubbles, and balloons, set to a lively soundtrack. (First: Episode 0002)
Guy Smiley (then named Sonny Friendly) hosts the "Pick Your Pet" game show. The contestant, Lucy Jones, chooses between a bird, a dog, and a monster. Lucy asks a series of questions to the animals, asking them questions that would relate to a cat. Her time runs up before she can ask Beautiful Day Monster any questions. She has to choose, so she picks Beautiful Day Monster. The monster acts like a cat, so Lucy is happy with her pet. (First: Episode 0067)
Kermit's Lectures: Kermit talks about the word "in," and the monster (an early version of Grover) wants to help him teach. Kermit has a big box that he wants the monster to get inside, but he can't seem to grasp the concept of IN ... he gets beside the box, on the box, and under the box. Finally, he reveals why he can't get in the box: because "Fred" is already inside it! (First: Episode 0056)
Ernie and Bert: Bert shows Ernie pictures and he needs to tell what happens next. Ernie tells Bert some very imaginative stories based on the pictures. For the last picture (a man about to drive his car over a nail), Ernie says, "I think a monster's going to appear". Sure enough, behind Bert's back, Cookie Monster appears: "Can I have a cookie?" (First: Episode 0056)
Cartoon: A Gary Owens-voiced man attempts to discuss the letter I, but is jeered by an offscreen voice. The man uses him as an example of the word "impolite". (First: Episode 0032)
Cartoon: A short poem about a pirate and his puppy demonstrate the letter P. (First: Episode 0059)
Countdown series: The rocket lifts early, and showers everyone in soot. (First: Episode 0018)
Countdown series: The rocket takes off at seven. It comes back down so the director can continue his countdown, but at one, it falls over and explodes. (First: Episode 0022)
Story: "Chicken Soup and Rice"