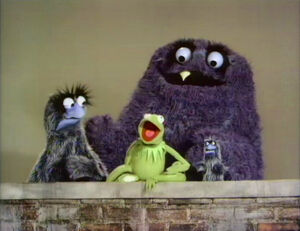 Animation: "E Imagination": A surreal story of a boy eating a peach atop an eagle witnesseing a queen on her knee, dreaming of eating ice cream in a land of steam. (First: Episode 0001)
Ernie tries to help a mailman deliver a letter to Mrs. Mary Ann ABCDEFGHIJKLMNOPQRSTUVWXYZ. (First: Episode 0038)
Kermit's Lectures: Kermit tries to demonstrate what round is, with the help of a wisecracking ball. He introduces Kermit to his "daddy," a scary-looking basketball. (First: Episode 0107)
Kermit's Lectures: Two Snerfs - Harry and Sam - help Kermit teach the difference between 'tall' and 'short,' but they keep changing sizes, thus disrupting his lecture. Kermit then changes the lecture to teach the difference between 'little' and 'big' with different-sized monsters: Frank and Harold... but he also meets Splurge. (First: Episode 0015)
Cartoon: "Poverty F" -- a man tries to remember a word beginning with the letter F, and another man lists as many words as he can think of to help him.
Cartoon: A self-proclaimed "handsome" fly (voiced by Casey Kasem) is indignant about appearing in a segment about the letter F with a "fat and ugly" frog. The frog solves the problem by eating the fly. (First: Episode 0034)
Bob and Gordon assemble a large "E" out of two separate pieces. (First: Episode 0005)
Cartoon: Dot Bridge (last dot is late and travels through the others) (First: Episode 0001)
Community content is available under
CC-BY-SA
unless otherwise noted.