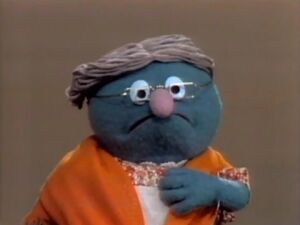 Picture
Segment
Description

SCENE 1
Oscar pops up during the opening theme sequence, trying to direct the filmed children elsewhere.

SCENE 1
cont'd
Oscar gets to his can, and is taking over the show while Gordon and Susan are at work. He displays the letters P and R and points out the difference between them. He looks up and sees Alphabet Bates skywrite the letter R.
(First: Episode 0014)

Muppets
Kermit's Lectures: Kermit the Frog is about to talk about the letter R, until Cookie Monster karate chops one of the legs off, turning it into a P. When Kermit threatens to tell the monster's mommy, Cookie reassembles the broken letter back to the letter "R".

Film
Kids paint P-word animals on glass.
(First: Episode 0119)

Muppets
Ernie and Lefty the Salesman have an argument over the letters "R" and "P."

Cartoon
R is for Rooster, and Robber, and Rake ...
Artist: Fred Calvert
(First: Episode 0011)

Film
A boy paints a picture of a porcupine on glass.
(First: Episode 0057)

Muppets
Roosevelt Franklin says his ABCs.
(First: Episode 0103)

SCENE 2
Oscar gathers the kids around to tell them a story. The kids sit near his can, but he tells them to move far back.

Muppets
Grover demonstrates the difference between "near" and "far" by running away from the camera and back, eventually fainting from exhaustion.
(First: Episode 0057)

Muppets
Kermit and Tracy demonstrate "close" and "far".

SCENE 3
The kids are now far enough from Oscar's can. Oscar tells them the story of the day Bert lost his nose.

Muppets
Ernie & Bert — Ernie holds a hanky while Bert sneezes -- and Bert's nose comes off in Ernie's hand. Ernie teases Bert by putting his nose back in the wrong places.
(First: Episode 0026)

SCENE 3
cont'd
Oscar laughs out loud, also recalling the time Ernie lost his nose.




Muppets
Bert says that he and Ernie are looking at the "Mysterious Nose-Snatcher." Ernie, disagreeing, walks closer and closer to the camera to see. His face begins to black out the screen...but when he moves back into view, his nose is missing!
(First: Episode 0005)

SCENE 3
cont'd
Oscar plays a "One of These Things" game with the kids, using pictures of Ernie — three with a nose on him, one without. He plays a second round using three pictures of circles and one of a square.

Cast
Buddy and Jim struggle with round and square window frames.
(First: Episode 0009)

Muppets
Hunt for Happiness: Helen Happy tells Harold Happy that she has mud on her sneaker.
(First: Episode 0112)

Film
"Where a Letter Goes" -- a film about mail delivery.
(First: Episode 0120)

Muppets
Grandmother Happy suggests that Helen wipe the mud off her sneaker with a rag... but now... there's mud on the rag!
(First: Episode 0112)

Film
"Nine Song (Song of Nine)"
(First: Episode 0016)

Cast
Gordon gets Bob unstuck from a large number 9.

Celebrity
Ruby Dee counts to 20.

Muppets
Grandmother Happy tells Harold to wash the mud off the rag with soap. It works... but now there's mud on the soap! Grandmother Happy gives up.
(First: Episode 0112)

Muppets
Bob and the Anything Muppets sing "The People in Your Neighborhood": Grocer and Doctor.
(First: Episode 0067)

SCENE 4
Susan comes home from work. She was just taking care of Mrs. Hughes's baby. Oscar isn't too keen on babies.

Film
A mom and her son comment on a film of various animal babies and their moms.
Music: Joe Raposo
(First: Episode 0096)

SCENE 4
cont'd
Susan is surprised that Oscar didn't like the babies in the previous segment. She points him to another film, with animal babies.

Film
Joe Raposo: What Babies Are Called
(First: Episode 0116)

Muppets
Guy Smiley sings "Gone with the Wind" to a young woman. During the song, a very strong wind blows – making the leaves fly off the tree, causing the woman's house to collapse, and finally ripping Guy's clothes off.
(First: Episode 0034)

Transition
A circle appears on screen, expanding like a balloon until it pops.
(First: Episode 0105)

Muppets
Kermit and Professor Hastings discuss the importance of exercise.

SCENE 5
Susan asks Oscar to say goodbye with her, but he's done enough today.