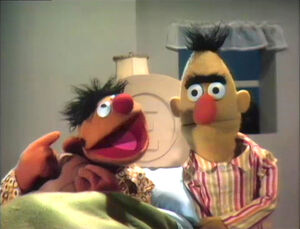 Bob and the kids are setting up model trains, trying to make the two tracks look the same. Oscar the Grouch says he doesn't want to play, but he really does and he can't hide it very well. As the kids race the trains, Oscar can't help but watch and comment, wearing an engineer's hat.
Ernie and Bert: Ernie comes up with a way for him to remember to put his basketball away before he goes to sleep: he remembers with his mind, which is in his head; his head is round, and so is the basketball. His plan works the first time, but not when Bert wants to go to sleep.
Ernie tries to teach a hungry Cookie Monster to use his knife, fork, and spoon.
Folk singer Leon Bibb visits Sesame Street. He sees Bob and the kids making a human tunnel for the model trains. He tells Bob, Susan, Gordon, Oscar, and the kids about trains, tunnels, and railroad workers. He sings "This is the Hammer that Killed John Henry"
Leon Bibb sings "Rainbow Round My Shoulder"
Cartoon: A sprightly seal tells the story of six silly sailors who split up on a see-saw. (First: Episode 0002)
Cartoon: S is for snow, santa, and sleigh.
Community content is available under
CC-BY-SA
unless otherwise noted.