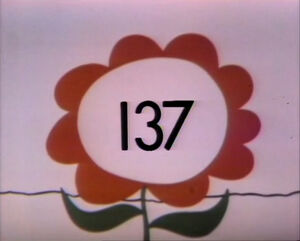 Picture
Segment
Description

SCENE 1
Gordon wants to show the letter B, but he only has one bump. Big Bird comes along with the straight part, so they show a small b. Then Bob comes with the other bump and they show capital B.

Cartoon
Speech Balloon: B for Bug

Film
Kids paint various things that begin with the letter B on a window.
(First: Episode 0008)

Celebrity
Actor James Earl Jones recites the alphabet.
(First: Episode 0002)

Film
Kids use shapes to make a train.

Muppets
Ernie & Bert — During the rain, Ernie stands under an umbrella explaining how the weather makes him feel happy, sad, and mad. Bert has been trying to get under the umbrella with him, telling Ernie that all it has made him feel is wet. Ernie wonders why he doesn't have his umbrella; Bert explains that it's because Ernie is using it. Ernie thanks him and leaves Bert sneezing in the rain.

Cartoon
Jazz #9

SCENE 2
Bob and Oscar the Grouch discuss anger. Oscar says that while he is often grouchy, he never loses his temper. Bob insists that even Oscar sometimes gets angry. As they argue about this, Oscar gets progressively angrier.

Cartoon
Speech Balloon: B for Butterfly
(First: Episode 0006)

Cartoon
B is for bear, bicycle, bump, branch and bee.
(First: Episode 0008)

SCENE 3
Bob carves a pumpkin and asks the kids what they like most about Halloween. Then they find different shapes in the jack-o-lantern's face.

Cartoon
A boxer explains the letter "B".
(First: Episode 0006)

Cartoon
Speech Balloon: B for Butterfly (repeat)

Muppets
Ernie & Bert — Ernie's doctor comes over. Ernie keeps trying to tell the doctor why he called him, but the doctor is too occupied with checking on Ernie, hardly allowing him to get a word in edgewise.

SCENE 4
Mr. Hooper and some kids sift through a box of numbers, looking for the number 9. They find nine 9s.

Cartoon
Speech Balloon: B for Bug (repeat)

Muppets
Ernie & Bert — Ernie and Bert plan to go to the zoo tomorrow, but Ernie can't make up his mind. What would happen if Ernie bought a balloon, but then lost it when he gets frightened by a buffalo? Then he remembers that the zoo is closed on Wednesdays.




SCENE 5
Bob demonstrates the word "on" by making a sandwich. The bread is on the breadboard, the mustard is on the bread, the ham is on the mustard, etc. He then demonstrates the word "in" by eating the sandwich.

SCENE 6
Gordon leads the kids in some exercises.

SCENE 7
Big Bird is ready to give a lecture to Farley (hiding in the barrels) on the number 9, but he thinks Mr. Hooper has given him a bunch of 6's instead. Mr. Hooper shows him that a 9 can look like a 6 upside down.

Muppets
Kermit's Lectures: Kermit tries to present a lecture about the letter B, but Cookie Monster eats the bottom of the B and turns it into an R. Kermit talks about the R, but then Cookie Monster snacks some more, and makes it a P. Kermit tries to go on, but the monster keeps eating, making it into an F, and then an I, and then nothing at all. Kermit chides Cookie Monster for ruining his lesson. Cookie Monster gives Kermit a kiss, then exits.
(First: Episode 0006)

Cartoon
Speech Balloon: B for Butterfly (repeat)




Film
Different kinds of wheels are shown and what they're used for.
(First: Episode 0013)

Cast
Gordon gets Bob unstuck from a large number 9.
(First: Episode 0129)

SCENE 8
Susan demonstrates the ET family on a blackboard.

Film
Counting 11 eggs and one cookie.
(First: Episode 0002)

Muppets
Ernie counts out eleven cookies and one egg. Cookie Monster eats the cookies- and then the egg.
(First: Episode 0054)

Cartoon
Jazz #9 (repeat)

Muppets
Ernie finds an apple on a brick wall, and wants to know who it belongs to. Sherlock Hemlock helps solve the mystery, and realizes that Ernie has a brown paper bag with a hole at the bottom, and that Ernie had an apple in the bag, therefore the apple belongs to Ernie.

Film
Footage of various bird species including hens, flamingos, pigeons, owls, ostriches, cockatoos, and others.
Music: (piano and whistling) Joe Raposo
(First: Episode 0019)

Muppets
Grover visits the zoo to talk about birds. He visits the bird cage (containing Little Bird) and swaps places inside the cage. Two Anything Muppets come and admire him.

SCENE 9
Bob encounters Big Bird reading a Spanish book. Big Bird says he's learned that "puerta" means "door." Bob adds that "adios" means "goodbye," and Gordon signs off.




CLOSING SIGNS
Gordon holds up the Sesame Street sign and Susan holds up the CTW sign at the end.