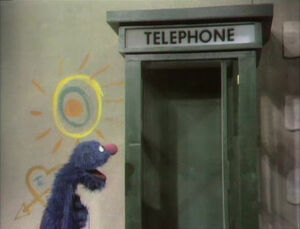 Picture
Segment
Description

SCENE 1
Gordon finds a blue ribbon, but he and Big Bird don't know who it belongs to. They ask Mr. Hooper what to do.

Animation
Bridge Dot & Hill A-1

SCENE 2
Mr. Hooper makes a sign, so if the person who lost the ribbon passes his store they will know what to do. He notices that the ribbon has three letters on it: D, O, and G. Bob enters with a puppy, but the ribbon doesn't belong to the puppy.

Cartoon
A song about a rolling O
Animation by John and Faith Hubley
(First: Episode 0011)

Cartoon
Jazz #7
(First: Episode 0136)

SCENE 3
Oscar enters Hooper's Store and asks for the usual: a spinach sundae with pickles, sardines and chocolate sauce. They ask him if the ribbon is his, but he reveals that he threw it out of his trash can, because the Disagreeable Order of Grouches awarded him (three episodes prior) the "handsomest grouch of the year", which is an insult.

Cartoon
While fishing one day, a boy catches the letters of the alphabet. Frustrated at not having caught any fish to eat, he decides to use his catch for alphabet soup.
(First: Episode 0004)

Celebrity
Tag: Tim Conway says "There was something fishy there."

Muppets
Broken Ukulele, Part 1: Ernie Ernie encounters a sobbing Beautiful Day Monster, who is crying because his ukulele is broken. Ernie shows him a few things one can do with a broken ukulele, but that doesn't stop the monster from crying. Ernie then offers to fix the ukulele.
(First: Episode 0080)

Animation
Dot & Hill A-2

Film
Footage of various bird species including hens, flamingos, pigeons, owls, ostriches, cockatoos, and others.
Music: (piano and whistling) Joe Raposo
(First: Episode 0019)

Muppets
Broken Ukulele, Part 2: Ernie brings back the ukulele, all fixed. And what does the monster do? He eats it!
(First: Episode 0080)

SCENE 4
Bob sings "Special" to some kids.

Animation
Dot & Hill A-3

SCENE 5
Gordon leaves Hooper's Store with a soda, and Mr. Hooper remembers just in time to give him his package. Mr. Hooper is glad he remembered, and asks the kids what he would do if he hadn't remembered in time. He would call Gordon on the telephone.

Muppets
Grover uses a telephone booth to explain how a telephone is used. When he enters the booth, however, he finds that there is no phone in sight. An Anything Muppet boy arrives to use the telephone, and thinks that Grover is the telephone since he is the only thing he found in the booth. The boy proceeds and talks into Grover's mouth.

Cartoon
O limerick

Muppets
Ernie & Bert — Bert hears the phone ringing inside a basket, and asks Ernie to answer it. Ernie goes through the basket, and finds a banana. He pretends it's a phone, and gives it to Bert to talk on. Ernie answers the real phone, and tells the caller that Bert can't come to the phone because he's talking on the banana.
(First: Episode 0004)

Cartoon
Speech Balloon: O for Open
(First: Episode 0014)

SCENE 6
Bob shows the kids a picture of a jungle, and has them spot the hidden lion and mouse. He then introduces a film of …

Film
Kids narrate a film of an African plain and the animals that live there.
(First: Episode 0128)

Muppets
"The "OP" Family Song"

SCENE 7
An Anything Muppet tells Gordon that "escuela" is Spanish for "school".

Animation
Dot & Hill A-4

Celebrity
The New York Knicks make 3 baskets in a row, but miss on the 4th.

Muppets
The Anything Muppets sing "Seven Days."
(First: Episode 0072)

Celebrity
Arte Johnson says "Your days are numbered," and counts to seven.

Celebrity
The New York Knicks make 8 baskets in a row, but miss on the 9th.

SCENE 8
Mr. Hooper displays a rose and a daisy to some kids, and has them observe how similar and different they are.

Film
A film shows parts of a flower.
Music: Vivaldi's Concerto for lute, 2 violins, and continuo in D Major: II - Largo
(First: Episode 0008)

Celebrity
The New York Knicks make 16 baskets in a row, but miss on the 17th.

Muppets
Two brothers, First and Last, sing about how their names affect how they do things.
(First: Episode 0134)

Cartoon
Speech Balloon: O for Open (repeat)

Muppets
Bob and the Anything Muppets sing "The People in Your Neighborhood": Dentist and Bus Driver.
(First: Episode 0106)

Cartoon
A song about a rolling O (repeat)

Cast
Bob and Gordon assemble a large O with two separate pieces.
(First: Episode 0111)

Muppets
A group of Muppets (including Taminella Grinderfall and Sour Bird) repeat saying "Oh!" when they see a letter O.
(First: Episode 0075)

SCENE 9
The sponsors are announced.