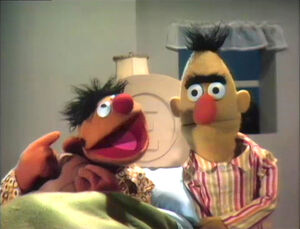 Picture
Segment
Description

SCENE 1
Susan sings "One of These Things Goes with the Others" with shapes (sorting them by size). She sings it again sorting capital and small letters.

Cartoon
L is for Lunchbox
(First: Episode 0031)

SCENE 2
Bob encounters Big Bird trying to remember what he was going to take home to his nest, and reminds him of the magazines he's carrying.

Cartoon
L is for Ladder
(First: Episode 0036)

Cast
Bob and Mr. Hooper manage to get L in the right position.
Muppets
Ernie & Bert — (Part 1) Bert tells Ernie to clean up the messy apartment.
(First: Episode 0010)

Film
Feet (0:59)
Muppets
Ernie & Bert — (Part 2) Ernie has finished cleaning up the apartment, but the toy chest is still a mess, so he throws toys all over the place.
(First: Episode 0010)

Cartoon
Jazz #8
(First: Episode 0016)

Celebrity
Flip Wilson counts from 1 to 20.




Muppets
Bob makes up three Anything Muppets as if they were employed in a transportation mode: a railroad engineer, an airplane pilot, and a bus driver. They all agree that the best job would be on board a submarine, then sing "Yellow Submarine".
(First: Episode 0017)

SCENE 3
Gordon uses a chair to show "parts".

Film
Joe Raposo sings "Look a Little Closer." (tomato)

SCENE 3
cont'd
Gordon has us look closer at something else …

Film
Joe Raposo sings "Look a Little Closer." (tire)

SCENE 3
cont'd
Gordon has us look closer at something else …

Song
Joe Raposo sings "Look a Little Closer." (hand)

SCENE 3
cont'd
Gordon points out his various body parts, which everyone has, including Solomon Grundy.

Cartoon
Poor Solomon Grundy washes a different part of the left side of his body every day, but at the end of the week, "he's still half dirty!"
(First: Episode 0001)

Muppets
Muppet & Kid Moment — Kermit the Frog and Brian demonstrate the parts of the face.
(First: Episode 0126)

Muppets
Lefty the Salesman wants to sell an 8 to Ernie, who ran out of money buying some 9s. Ernie then offers to sell Lefty his 9s.
(First: Episode 0079)

Muppets
Herbert Birdsfoot invents a complicated machine, to test Cookie Monster's problem-solving abilities. Cookie Monster needs to pull the string to raise the glass cover off the plateful of cookies at the other end -- but when he lets go to retrieve the cookies, the cover will fall again. Herbert hears Cookie Monster approaching, and hides to observe him. Cookie investigates the machine for a moment, then gets the cookies by karate-chopping the glass cover.
(First: Episode 0132)

Cartoon
Jazz #8 (repeat)

SCENE 4
Mr. Hooper asks Oscar to watch the store for him while he delivers some groceries. Oscar does it in exchange for an undisclosed favor.

Cartoon
L is for Lips

SCENE 4
cont'd
Miguel encounters Oscar running the store. He indecisively asks for four lollipops, then five, then three, bugging Oscar. Mr. Hooper comes back and, to show gratitude towards Oscar, offers him a lollipop.

Film
Body Parts vs. Heavy Equipment: Three boys (including Brian Henson) pretend to be steam shovels, playing in the dirt. This segues into footage of real construction vehicles. A parallel is drawn between the machinery and how the boys' arms and mouths work.
(First: Episode 0003)

Muppets
Big Bird sees Little Bird and wonders what kind of animal he is. He tries to communicate with Little Bird by barking, meowing, and mooing, until he finally asks what Little Bird is. After Little Bird tells Big Bird that he's a bird, Big Bird doesn't believe him, thinking that birds are big, so Little Bird compares their similarities until he convinces Big Bird that he is a bird.
(First: Episode 0028)

Film
Two men, Big and Little, travel around playing the tuba and violin. Even though they're different (Big has dark skin, and Little has light skin), together they make beautiful music.
(First: Episode 0016)

SCENE 5
Bob sings "What the World Needs Now Is Love", amid a montage of neighbors doing various things: Miguel cuddling with his dog, Big Bird sniffing a flower, Susan giving Gordon a kiss, and Mr. Hooper enjoying an ice cream cone.

Muppets
Ernie & Bert — Ernie comes up with a way for him to remember to put his basketball away before he goes to sleep: he remembers with his mind, which is in his head; his head is round, and so is the basketball. His plan works the first time, but not when Bert wants to go to sleep.
(First: Episode 0134)

Celebrity
Arte Johnson says the alphabet, forgetting a few letters here and there.

Cartoon
Speech Balloon: L for Light

SCENE 6
Miguel signs off as he feeds his dog.