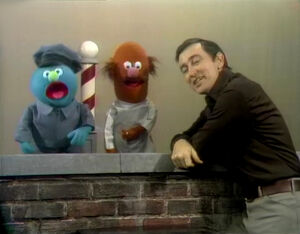 Picture
Segment
Description

SCENE 1
Gordon begins to paint a large chest for Susan, but they disagree on whether it should be red or yellow.

Cartoon
Jazz #7
(First: Episode 0136)

SCENE 1
cont'd
Mr. Hooper arrives to deliver some groceries. He helps Susan and Gordon come to an agreement to paint the chest with red and yellow stripes, though he prefers blue and brown.

Cartoon
Jazz #7 (repeat)

SCENE 1
cont'd
As Gordon paints the chest, Susan counts the groceries that Mr. Hooper has brought. Gordon eats item #7: a package of cupcakes.

Cartoon
"All right, now that you've eaten everything in sight, would you mind telling me what you plan to have for dessert?"
(First: Episode 0006)

Muppets
A disconsolate Ernie tells Oscar the Grouch that he's lost his Rubber Duckie. Oscar tries to calm Ernie down and says that he'll buy Ernie another one. Ernie says he can't - Rubber Duckie is special and unique. He tells Oscar that Rubber Duckie is "cute, adorable, sweet, cuddly, and makes a wonderful sound." Oscar tells Ernie that he'll bring him a new one.
(First: Episode 0139)

Cartoon
M for mouse, mud, and mother
(First: Episode 0073)

Cartoon
M for Mail
(First: Episode 0013)

Muppets
Part 2: Oscar comes back with a new Duckie, but this one is different - it's a Grouch duckie. They realize that they have different ideas of what is cute and ugly. Ernie thanks Oscar for trying to help - and when he sits down, he hears a familiar squeak. He digs through the stuff on the floor, and finds his Rubber Duckie! Ernie and Oscar argue over which of their toys is the cutest.
(First: Episode 0139)

SCENE 2
Bob reads The Monkey and the Crocodile by Paul Galdone.

Cartoon
M is for Marvelous Martha
(First: Episode 0013)

SCENE 2
cont'd
Bob continues reading the story.

Film
Sesame Street Animal Films: A female and male vocalist sing "Bird is a four-letter word" over a film about birds.

Muppets
An Anything Muppet boy teaches "forward" and "backward" with a group of Muppets who keep running over the boy when his back is turned.
(First: Episode 0069)

Celebrity
Pat Paulsen demonstrates "forward" and "backward".
(First: Episode 0069)

SCENE 3
Bob and the kids demonstrate forward and backward.

Cartoon
Alice Braithwaite Goodyshoes demonstrates forward and backward using a wind-up toy.

Celebrity
Tim Conway says, "One more time!"
(First: Episode 0140)

Cartoon
Jazz #7 (repeat)

Muppets
Some Anything Muppets and monsters pile up and count to 10.
(First: Episode 0084)

SCENE 4
Oscar plays a picture game with the kids, where he has them guess which person works where.

Muppets
Bob and the Anything Muppets sing "The People in Your Neighborhood": Garbageman and Barber.
(First: Episode 0045)

Cartoon
D for Dog: the roles between dog and master are reversed.
(First: Episode 0016)

Cartoon
A small man and his assistant, Dudley, attempt to demonstrate both the capital and lower-case letter D.
(First: Episode 0016)




Cartoon
Superman, carrying a door-like shield, charges towards a giant ape and uses it to block the ape's heat-vision. He punches the ape, knocking it to the ground, and rescues Lois from the ape's hand. The camera then cuts to Superman exclaiming "D!"
(First: Episode 0025)

Transition
Diamond transition
(First: Episode 0007)

Muppets
Ernie conducts an "alphabet test" (using a poster from the Sesame Street Learning Kit). While Bert checks the poster, Ernie tries to recite the alphabet from memory. Bert cues him on what comes after C …
(First: Episode 0019)

Cartoon
"The D Commercial:" Two boys notice a D, saying it looks fat. A resonant voice (Gary Owens) informs them that it's the letter D. This leads to a jazzy story about a dog who digs for dice, wins a duck, and buys a dinosaur with a dime. Moral: "If you dig a dinosaur, drop your duck for a dime."
Studio: Ken Snyder; Director: Fred Calvert
(First: Episode 0016)

Muppets
Bert cues Ernie on what comes after L …
(First: Episode 0019)

Cartoon
M for Mail
(First: Episode 0013)

Muppets
When Bert challenges Ernie to say the alphabet backwards, Ernie turns his back from Bert and recites the alphabet, facing the poster.
(First: Episode 0019)

SCENE 5
Gordon notices a broken garage step and puts a "DANGER" sign on it.

Cartoon
Various renderings of the word DANGER.
Artists: The Hubleys
(First: Episode 0151)

SCENE 6
In the kitchen, Susan plays "One of These Things" with different-sized glasses and spoons.




Muppets
Ernie is preparing to have a snack but discovers that his milk and cookie keep on vanishing. He eventually catches the culprit, who begins acting affectionately, until Ernie agrees to give him his own milk and cookie.
(First: Episode 0011)

SCENE 7
The sponsors are announced.