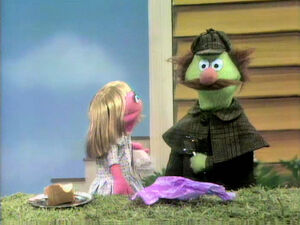 Picture
Segment
Description

SCENE 1
Bob and some kids play rhythms on pots, boxes and makeshift drums.

Cast
Larry and Phyllis: Separately, Larry plays a guitar while Phyllis plays drums. Then they play different songs at the same time (Larry plays "Hippopotamus Named Phil" while Phyllis plays "Rhinoceros Took a Bath"), until they cooperate to play "The Girl from Ipanema".
(First: Episode 0154)

Cartoon
Jazz #6
(First: Episode 0011)

SCENE 2
Big Bird plays in his nest with a set of blocks that Roosevelt Franklin had gifted him. Herry Monster comes along and helps him sort them according to how they want to play with them.

Cartoon
Jazz #6 (repeat)

Muppets
Tony sings The Beatles song "Help!" because his date can't go to the dance tonight and he needs someone to go with.
(First: Episode 0135)

Muppets
Ernie & Bert — Bert tells Ernie that if he can clean the messy apartment in fifteen seconds or less, he will give Ernie his dessert: ice cream and cookies.
(First: Episode 0033)

SCENE 3
Gordon has a picture of a room in which flowers are embedded, and asks the kids to help find them.

Film
A film shows parts of a flower.
Music: Vivaldi's Concerto for lute, 2 violins, and continuo in D Major: II - Largo
(First: Episode 0008)




Muppets / Cast
Bob reads the story of "The Princess and the Cookie". In the story, a king is looking for someone to marry his daughter, the small princess Eunice. He is having trouble, because all the princes in the kingdom keep bringing her cookies that are too big for her. Finally, the baker (Cookie Monster) enters with the smallest cookie in the kingdom, which the princess immediately wants. The baker is disinterested in marrying the princess, until the prince offers him the other three cookies that the princes brought. And they lived happily ever after.
(First: Episode 0152)

Cartoon
A boy and a dog fight over a letter "I."
(First: Episode 0143)

Celebrity
Tim Conway "I" tag

Cartoon
A Gary Owens-voiced man attempts to discuss the letter I, but is jeered by an offscreen voice. The man uses him as an example of the word "impolite".
(First: Episode 0032)

Cartoon
Speech Balloon: I - ice cream.
(First: Episode 0033)

Celebrity
Listen My Brother sings their own version of "The Alphabet Song."
(First: Episode 0005)

Muppets
Ernie & Bert — Ernie eats one of the two pieces of chocolate cake that Bert was saving for their dessert. Bert sees Ernie holding a fork in one hand and a napkin with some chocolate on it in the other--and in front of him is a plate full of chocolate-cake crumbs. When Bert accuses Ernie of eating the cake, Ernie tells Bert that a monster came in, ate Bert's cake, and framed Ernie. Bert doesn't believe Ernie's lie. But when Bert leaves the room, Beautiful Day Monster comes in and does exactly what Ernie told Bert happened to the first piece. Ernie tries to explain, but Bert says, "I don't want to talk about it."
(First: Episode 0119)

Muppets
Jerry Nelson narrates a letter F joining U and N to make the word FUN. They celebrate with streamers and confetti.

SCENE 4
Big Bird leads the kids in hopping on one foot, then the other foot, then both feet.

Film
Grasshopper (harpsichord 50s-style music)
(First: Episode 0084)




Muppets
Guy Smiley hosts the game show "What's My Part?". The contestant is Mr. Nose. The panelists -- Bennett Snerf, Arlene Frantic, and Cookie Monster -- don't know what a nose is, because none of them have noses.
(First: Episode 0131)

Cartoon
"Poverty U" -- A figure gives a salute to the letter U, and presents the letter with a bouquet of flowers.
Artist: Cliff Roberts
(First: Episode 0036)

Cartoon
Speech Balloon: U for Umbrella
(First: Episode 0038)

Muppets
Kermit's Lectures: Kermit tries to demonstrate what round is, with the help of a wisecracking ball. He introduces Kermit to his "daddy," a basketball.
(First: Episode 0107)

Cast
Gordon notices two groups of potato sacks with the wrong numbers matted above them: the group of two has the number 3, and the group of 3 has the number 2. He and Bob cooperate to carry one sack from one group to the other.

Muppets
Sherlock Hemlock tries to figure out why there is a mess outside. He speculates that the Twiddlebugs made a mess after a Twiddlebug dance.

Film
Tracks from a race car cross paths until most of the screen is blank. A pair of foot prints crosses the screen to blank out the last bit.
(First: Episode 0105)

SCENE 5
The sponsors are announced.




CLOSING SIGNS
Big Bird holds up the Sesame Street sign, and Oscar holds up the Children's Television Workshop sign.