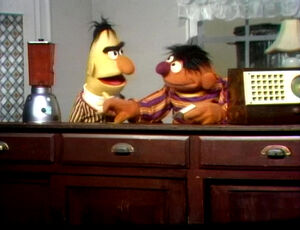 Ernie & Bert — Ernie and Bert are watching TV, but Bert gets bored and decides to play a record. Ernie tells him to turn down the volume, but Bert won't, so Ernie drowns out Bert's music by playing the radio. Bert then retaliates by turning on the blender. With all four things running at once, they blow a fuse, causing a total blackout in their apartment. Bert goes outside to fix the fuse box, while Ernie turns off all the things that were running. When the lights come back on, they decide to play cards instead of fight. (First: Episode 0003)
An Anything Muppet girl shows the viewers that the number 11 is the same right side up and upside down.
The New York Knicks demonstrate over, around and through.