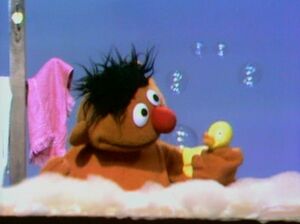 Film: Two boys each have five cents--one has five pennies, one has a nickel. They see a dime along the way, which is worth ten. They ask the man at the store for change for the dime, and he gives them a nickel and five pennies. They spend their pennies, but then they want to buy an ice cream for ten cents and the machine only takes dimes. They give the store man their nickels in exchange for a dime and they share a fudgesicle. (First: Episode 0132)
Miguel counts to seven in Spanish.
Three Muppets have one penny to spend at Hooper's Store. When they combine them, they have enough to buy a candy bar they can share.
Community content is available under
CC-BY-SA
unless otherwise noted.