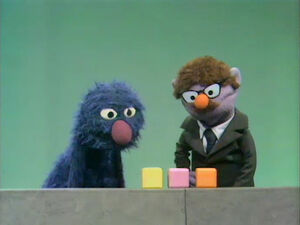 Picture
Segment
Description

SCENE 1
Susan and Gordon sit on the steps with the kids. Susan greets the viewer, and talks to the kids about imagination and pretending. They all decide to pretend it's someone's birthday. Gordon picks Oscar, who doesn't want in on this, until he learns it's just pretending.

Muppets
Kermit's Lectures: Kermit talks about horns.
(First: Episode 0112)

SCENE 2
Susan, Gordon and the kids have all put together a pretend birthday party, using cupcake cups for hats, and a throw pillow for a cake, with imaginary candles. Oscar blows out the candles, then gets an empty box with an imaginary gift of his choice: a sneaker. Oscar mouths words to give an imaginary "thank you".

Muppets
Ernie & Bert — Bert has a present for his Aunt Matilda, but Ernie thinks that the present is for him, so he makes several guesses about what it is first, then unwraps it.
(First: Episode 0165)

Celebrity
Bill Cosby demonstrates what a surprised face looks like.
(First: Episode 0138)

Cartoon
Jazz #9
(First: Episode 0137)

Muppets
Grover the Assistant: Kermit and Grover count nine blocks.
(First: Episode 0080)

Celebrity
Flip Wilson counts from 1 to 20.
(First: Episode 0147)

SCENE 3
K quickies:

Gordon displays the letter K, and lets himself in with a key.
Susan wears a kerchief.

Cartoon
K is for kitten.
(First: Episode 0040)

Cartoon
Speech Balloon: K - Key
(First: Episode 0040)

SCENE 4
More K quickies:

Cartoon
"Poverty K" - Karen the Kangaroo talks about words that start with the letter K. Featuring the sped-up voice of Gene Moss.
(First: Episode 0142)

Cast
Larry and Phyllis cooperate on sending out invitations to a party.
(First: Episode 0150)

Cartoon
K is for kiss.
Animation: John and Faith Hubley
(First: Episode 0131)

Cartoon
"K" - Kangaroo - A man (voiced by Gary Owens) explains what a kangaroo is, and ends up in the pouch of one.
(First: Episode 0141)

SCENE 5
Gordon transitions from the previous segment to the next.

Film
Sesame Street Animal Films: Tree kangaroo and baby.
Music: Joe Raposo
(First: Episode 0026)

Muppets
Ernie sings "Here Are Some Things" using plates of cookies, which Cookie Monster tries to eat.

Cartoon
Jazz #9 (repeat)

Cartoon
The O in STOP bounces around, and the other letters tell it to stop.
Artists: The Hubleys
(First: Episode 0149)

Muppets
Cookie Monster explains the purpose of the Bus Stop sign, however the bus zooms pasts him. Resulting in Cookie Monster ripping the part of the sign mentioning STOP.

SCENE 6
Bob displays a letter N, which begins "newspaper", "napkin" and "neck".

Cartoon
Speech Balloon: N - Nail
(First: Episode 0040)

Cartoon
Eugene wants his talking crow Willis to name some N words, and Willis replies with "no," "nothing," "nobody" and "never."
(First: Episode 0101)

SCENE 7
Susan expands on the letter N: she displays a needle, and mentions she's a nurse.

Muppets
A disconsolate Ernie tells Oscar the Grouch that he's lost his Rubber Duckie. Oscar tries to calm Ernie down and says that he'll buy Ernie another one. Ernie says he can't - Rubber Duckie is special and unique. He tells Oscar that Rubber Duckie is "cute, adorable, sweet, cuddly, and makes a wonderful sound." Oscar tells Ernie that he'll bring him a new one.
(First: Episode 0139)

Cartoon
N is naughty, nice, nodding, nickel, noon, nibbling, nest, nut, nose, night, nine, and nursing.
(First: Episode 0140)

Muppets
Oscar comes back with a new Duckie, but this one is different - it's a Grouch duckie. They realize that they have different ideas of what is cute and ugly. Ernie thanks Oscar for trying to help - and when he sits down, he hears a familiar squeak. He digs through the stuff on the floor, and finds his Rubber Duckie! Ernie and Oscar argue over which of their toys is the cutest.
(First: Episode 0139)

Cartoon
An N-terview with an N
Artist: John Paratore
(First: Episode 0131)

SCENE 8
More on the letter N: Big Bird enters his nest, and takes a nap.

Muppets
Grover the Assistant: Herbert Birdsfoot arranges three blocks for Grover to count. No matter how the blocks are arranged, they still add up to three. Herbert asks Grover to count some oranges as well. Grover confesses that he's good at counting blocks -- but he doesn't know how to count oranges!

Celebrity
Burt Lancaster says the alphabet.
(First: Episode 0006)

Muppets
Gordon and Cookie Monster see a big pile of cookies. Cookie asks for one cookie, and saves it for later because he does not want to ruin his supper (which will be cookies). Then he wants another, because one cookie makes him a little happy, but two would make him happier. As Gordon puts cookies in Cookie's bag and then takes them away, Cookie becomes more happy with more cookies and less happy with less cookies. When Cookie has all the cookies in his bag, he is very happy, but decides there is a better place to put the cookies than the bag ... his tummy.
(First: Episode 0153)

Film
A boy talks his observations and experiences with the rain as he and his father go for a walk in it.
(First: Episode 0149)

SCENE 9
The sponsors are announced.