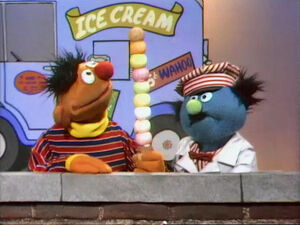 Ernie & Bert — Happening upon Mr. Ice Cream Cone Man, Ernie wants to buy a chocolate-strawberry-peach-vanilla-banana-pistachio-peppermint-lemon-orange-butterscotch ice cream cone. The ice cream vendor instead gives him a butterscotch-orange-lemon-peppermint-pistachio-banana-vanilla-peach-strawberry-chocolate ice cream cone. (First: Episode 0133)
Susan shows how it looks when one feels proud and sings "Walk Down the Street (with Your Head Held High)."
Ernie finds an apple on a brick wall, and wants to know who it belongs to. Sherlock Hemlock helps solve the mystery, and realizes that Ernie has a brown paper bag with a hole at the bottom, and that Ernie had an apple in the bag, therefore the apple belongs to Ernie. (First: Episode 0137)
Some Anything Muppet kids get ready to play Baseball. Most bring the right equipment but one brings a hockey stick. They try again, but this time one has a tennis racket. On the third attempt, one has a box, which you don't need to play baseball either. But the box has a baseball in it.
Community content is available under
CC-BY-SA
unless otherwise noted.