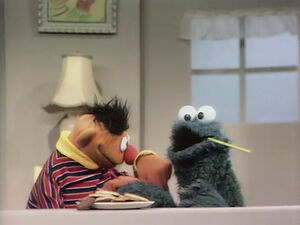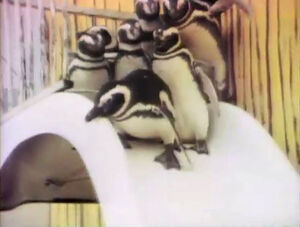 Frannie, a little girl Muppet, does an errand for her mother at Hooper's Store.
Bob and some kids talks about what "me" means.
Bob and the Kids play "Simon Says" with Oscar.
Film: Kids count 20 penguins as they slide down into a pool of water.
Ernie invents a machine that makes A's -- you turn the crank over here, you push the button on top, and out comes an A. But it doesn't work when it rains -- it only makes A when the sun shines. (First: Episode 0006)
Film: A girl named Jennifer visits family friend Mrs. Wilson in the country, and together they pick food from her garden. (First: Episode 0021)
Bob sings "There is Nobody Just Like You" to a group of little girls.
Marty makes shapes using pieces of chain.
Cartoon: A story about an ape and a bird, using the letter A. (aired twice) (EKA: Episode 0179)
Cartoon: A man displays the capital and lowercase A, and explains what an alligator is...before he is eaten by one. (First: Episode 0006)
Cartoon: "The Story of A" -- A witch tells bored kids a story about the letter A involving an ant's apple getting stolen by an archer. (First: Episode 0130)
Bob, Big Bird, and kids line up to get some ice cream.
Community content is available under
CC-BY-SA
unless otherwise noted.