Sesame Street
Bob and the Kids make a soapbox racer for Big Bird.
Air date
April 2, 1971
Season
Season 2 (1970-1971)

Sponsors
F, 7

This episode guide has been compiled from materials at the CTW Archives.

ⓘ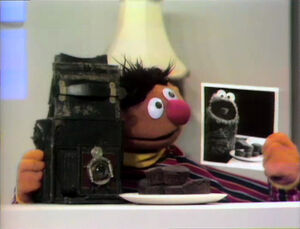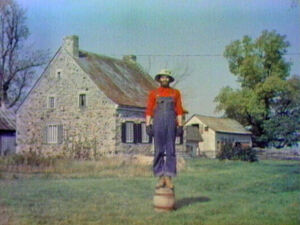 The cast demonstrate the "AN" word family, with Mr. Hooper showing a fan, Gordon as the man, and Susan with a pan.
In two different segments, Arte Johnson talks about the eyes and nose.
Susan shows how things can look different when they are seen up-close and far away.
Two Muppet hands argue over a piece of cake before they decide to share it.
Film: George the Farmer is "near" when he's on a barrel; he's "far" when he's on the porch.
Cartoon: "Poverty F" -- a man tries to remember a word beginning with the letter F, and another man lists as many words as he can think of to help him. (aired twice) (First: Episode 0128)
Cartoon: A self-proclaimed "handsome" fly (voiced by Casey Kasem) is indignant about appearing in a segment about the letter F with a "fat and ugly" frog. The frog solves the problem by eating the fly. (First: Episode 0034)
Ernie & Bert — Bert says that he and Ernie are looking at the "Mysterious Nose-Snatcher." Ernie, disagreeing, walks closer and closer to the camera to see. His face begins to black out the screen...but when he moves back into view, his nose is missing! (First: Episode 0005)
Lefty the Salesman sells Ernie some air, but when Ernie wants to show it to Bert, Bert accidentally causes Ernie to drop it. According to Bert (who didn't know what Ernie had), "It's not like it dropped into thin air". But Ernie insists that it did. (First: Episode 0118)
Hubley animation: A bully won't give the kids' baseball back. The boy imagines a few scenarios before ultimately calling for his dog.
Community content is available under
CC-BY-SA
unless otherwise noted.