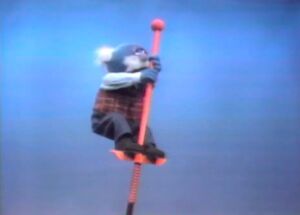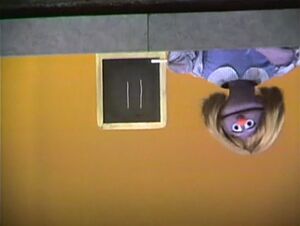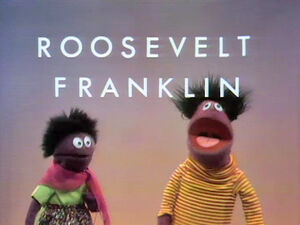 Ernie & Bert — Ernie lies in bed and starts talking about how a square looks like and how many lines it has, then goes on to compare a a square with a triangle. And then starts to ponder about how many sides a circle has, and goes to sleep just as Bert is about to attempt to answer the question, and ends up not being able to sleep. (First: Episode 0132)
John and kids make numbers using folding rulers.
Ernie & Bert — Part 1: Ernie is a barber, and cuts all of Bert's hair off. Part 2: Ernie tries to disguise Bert until his hair grows back, but a monster (later known as Grover) mistakes Bert for his father. Part 3: Bert has grown his hair back, but now he talks like Cookie Monster. (First: Episode 0068)
Bob and Gordon magically make a number eleven.
Three Anything Muppets (including Farley) wait for a bus at a bus stop. To their surprise, the bus is very small, and two small Muppets get off of it.
Gordon sorts cleaning tools.
Professor Hastings uses a pogo stick to demonstrate "up" and "down", and ends up jumping into a pond.
John sorts carpenter's tools.
An Anything Muppet girl shows the viewers that the number 11 is the same right side up and upside down.
John talks about subtraction with kids.
Film: a boy learns to ride a bike.
Animation: "E Imagination": A surreal story of a boy eating a peach atop an eagle witnessing a queen on her knee, dreaming of eating ice cream in a land of steam. (First: Episode 0001)
Bob finds a girl crying because she thinks she's not pretty, and doesn't have nice clothes. Bob sings "Don't You Know You're Beautiful?" to her to cheer her up.
Countdown series: After countdown, the director himself is launched into space as the rocket stays put. (First: Episode 0018)