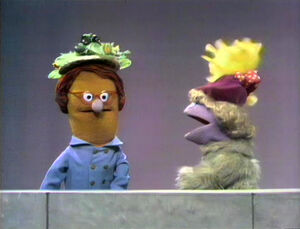 Film: Kids narrate a visit to an automobile factory, and watch a taxi being made.
Bob reads the story of "The Magic Apple," which is acted out by Ernie, Bert and three Anything Muppets. Ernie plays a "poor but honest farm boy" who would like to marry a princess and live in a palace with Rubber Duckies and banana milkshakes. A fairy godmother grants him that wish, but only if he can pick a magic apple from a tree. A farmer attempts to help him get the apple, but doesn't succeed. Finally, Ernie rests under the tree until the apple falls into his mouth! Just then, a king arrives and chooses Ernie to marry his daughter, "the lovely Princess Gwendolinda" (Bert in drag!). (First: Episode 0133)
Peggy Fleming demonstrates under by skating under two of her partners.