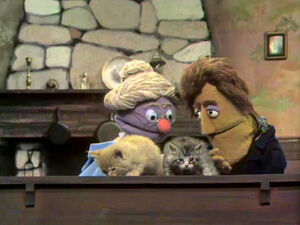 Farley explains things one can do with their mind - he plans on going to the door, he imagines who's knocking at it, he remembers it's not his mother and he hopes there's not a scary monster at the door. Herry Monster surprises him by bursting through the door, frightening Farley away. Herry's sorry Farley ran away; he wanted to play. (EKA: Episode 0180)
Grover and Tom demonstrate between using a pickle sandwich.
Kermit the Frog demonstrates between by using a ping-pong ball, a donut, and a Beatles record sitting on a table, with the donut between the record and the ball. Beautiful Day Monster comes along and proceeds to eat everything. Kermit fears he will also get eaten, but the monster thanks him with a kiss. (First: Episode 0070)
Big Bird makes a disguise with a beard and mustache.
Community content is available under
CC-BY-SA
unless otherwise noted.