Sesame Street
Plot
Oscar sets up his own postal service
Air date
May 10, 1971
Season
Season 2 (1970-1971)
Sponsors
E, 10

This episode guide has been compiled from materials at the CTW Archives and the NHK episode guides.

ⓘ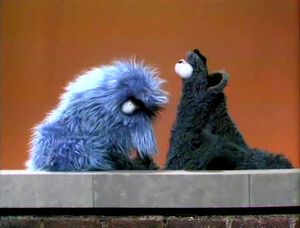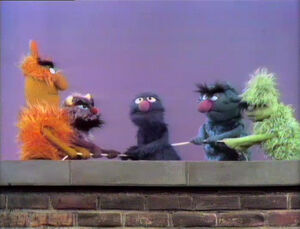 Susan, Gordon, and Oscar are waiting for the postman (Oscar is looking forward to the latest edition of "Trash Beautiful"), when Oscar decides he can deliver the mail better than the postman can. He sets up his own post office, complete with a mail truck (a trash can on wheels), stamps (featuring George Grouchington, and with plenty of strawberry fish flavored stickum on the back), and air mail service (Little Bird).
Susan helps Oscar read the poor handwriting on one envelope, and helps him deliver it to Roosevelt Franklin. She then helps Roosevelt sing a song about spelling his name.
Gordon tries to give Oscar another letter to mail, but Oscar's mouth has been stuck shut from licking too many stamps. When he gets his mouth open, he says he has closed his post office.
Grover demonstrates cooperation with monsters who are playing tug-of-war.
Ernie & Bert — Ernie comes up with a way for him to remember to put his basketball away before he goes to sleep: he remembers with his mind, which is in his head; his head is round, and so is the basketball. His plan works the first time, but not when Bert wants to go to sleep. (First: Episode 0134)
Grover is going to teach the audience about "surprise" by sneaking up on Ernie. He sees Ernie sitting in his chair -- and he knows that it's Ernie, because he can see Ernie's shirt and Ernie's hair. Grover sneaks up to surprise Ernie -- but then it turns out to be Herry Monster, disguised as Ernie! (First: Episode 0183)
Animation: "E Imagination": A surreal story of a boy eating a peach atop an eagle witnessing a queen on her knee, dreaming of eating ice cream in a land of steam. (First: Episode 0001)
Ernie & Bert — Bert and Ernie try to figure out who owns a cabinet containing cookies. Bert says that the cabinet is his, because he has his first initial, B, on the door. However, the B is spread between two doors, and Ernie opens one door, making it look like an E. (First: Episode 0019)
Cartoon: I thought a thought - Red. A man thinks about things that can be red, including a fire engine, a crayon, and an apple. A green frog pops into his thoughts and he tells it to move along because it isn't red.