Sesame Street
Big Bird cleans the street; Mr. Hooper makes Oscar a sundae.
Air date
May 19, 1971
Season
Season 2 (1970-1971)

Sponsors
I, 6

This episode guide has been compiled from materials at the CTW Archives and the NHK episode guides.

ⓘ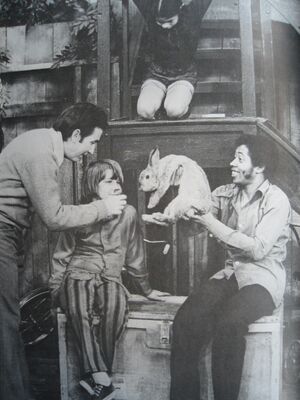 Mr. Hooper makes Oscar the Grouch a sundae. Not an ice cream sundae, but a rubber ball sundae with chocolate syrup and a pickle on top. When Mr. Hooper questions Oscar's taste, Oscar reminds him that the customer is always right.
Cartoon: Two men (represented by only their heads) have their own different idea, and tell the other about it; now both men know twice as much.
Cartoon: After a kid sees a jumble of shapes, he tells his father about it. The father finds a way to turn the stuff into a cart and tells his son, who remembers to assemble it. (EKA: Episode 0231)
Mr. Hooper introduces the dolphin sketch by asking kids if they can count in English and in Spanish.
Cartoon: A painter paints red paint all around the screen, eventually painting over himself.
Ernie & Bert — Ernie lies in bed and starts talking about how a square looks like and how many lines it has, then goes on to compare a a square with a triangle. And then starts to ponder about how many sides a circle has, and goes to sleep just as Bert is about to attempt to answer the question, and ends up not being able to sleep. (EKA: Episode 0239)
Cartoon: A Gary Owens-voiced man attempts to discuss the letter I, but is jeered by an offscreen voice. The man uses him as an example of the word "impolite". (First: Episode 0032)
Ernie & Bert — Bert tells Ernie to clean up the messy apartment. Ernie cleans up, but the toy chest is still a mess, so he tidies up the toy chest by throwing toys all over the room. (First: Episode 0010)
Ernie & Bert — Ernie has six jellybeans, and Bert has seven. Bert thanks Ernie for giving him the extra jellybean. Ernie says that isn't fair -- they should have an equal amount. To make it even, Ernie eats the extra jellybean. That's fair, isn't it? (First: Episode 0014)
Cartoon: A boy and a dog fight over a letter "I". (shown twice) (EKA: Episode 0218)
Community content is available under
CC-BY-SA
unless otherwise noted.