Sesame Street
Big Bird reads a "Don't Touch" sign
Air date
May 24, 1971
Season
Season 2 (1970-1971)

Sponsors
W, 9

This episode guide has been compiled from script materials provided by a trusted source.

ⓘ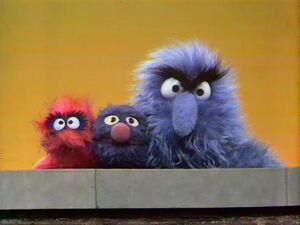 Picture
Segment
Description

SCENE 1
Mr. Hooper has a big tub of ice cream, which he thinks he'll sell to everyone, since everyone likes ice cream …

Muppets
Three Anything Muppets sing "Everyone Likes Ice Cream" (edited)
(First: Episode 0026)

Cartoon
I Thought a Thought ... about small things. A man thinks about small things, and lists them. A sea monster thinks it is small, especially when compared to its father!
Artist: Cliff Roberts
(First: Episode 0241)

SCENE 2
Tom has just fixed a chair, and makes a "Don't Touch This" sign to put on it while the glue is drying. Big Bird wants to sit in the chair, but Tom asks him to read the sign he has written. Big Bird reads the words in different orders, and the sign doesn't make sense. Increasingly worried that Big Bird will break the chair, Tom shows him the correct direction in which to read the words, and Big Bird understands the sign. Tom puts the sign on the chair, and the chair breaks.

Cartoon
"Wanda the Witch"
Animation by Tee Collins
(First: Episode 0001)

Celebrity
Carol Burnett: "Wow, Wanda the Witch is weird."
(First: Episode 0001)

Cartoon
A worm declares that the word "worm" is the only important word that begins with "W". A walrus retaliates by dumping a bucket of water on it.
(First: Episode 0001)

Cast
Gordon and Bob assemble a W.
(First: Episode 0005)

Cartoon
Speech Balloon: W for water
(First: Episode 0062)

Muppets
Farley explains things one can do with their mind - he plans on going to the door, he imagines who's knocking at it, he remembers it's not his mother and he hopes there's not a scary monster at the door. Herry Monster surprises him by bursting through the door, frightening Farley away. Herry's sorry Farley ran away; he wanted to play.
(First: Episode 0180)

Song
Joe Raposo sings "Touch and Feel."
(First: Episode 0252)

SCENE 3
Gordon teaches kids that "leche" is Spanish for "milk".

Film
A little boy narrates the various activities his family partakes in on a typical Monday.
(First: Episode 0127)

Cast
Gordon and Tom want to draw houses, but they only have one sheet of paper. They each use half, but they are not pleased with their houses until they cooperate again and connect the lines in the middle to make one big house.

Cartoon
Jazz #9
(First: Episode 0137)

Muppets
Grover, Herry Monster, and Billy rearrange themselves in different ways and count to three, until they get exhausted and faint.
(First: Episode 0186)

SCENE 4
Susan buys pillows. It is hard to stuff a pillow into a bag all by yourself, so she and Mr. Hooper cooperate--she holds the bags while he puts the pillows in.

Muppets
Ernie & Bert — Ernie and Bert plan to go to the zoo tomorrow, but Ernie can't make up his mind. What would happen if Ernie bought a balloon, but then lost it when he gets frightened by a buffalo? Then he remembers that the zoo is closed on Wednesdays.
(First: Episode 0137)

Film
Kids narrate a film about where you get ice cream: from the cow, to the factory, to the ice cream shoppe.
(First: Episode 0168)

SCENE 5
Susan plays a game of "Three of These Things" with triangles and squares.

Muppets
Grover sees his shadow follow him around, and thinks it's a person following him. However, Herbert Birdsfoot explains what a shadow is.
(First: Episode 0221)

SCENE 6
Gordon plays a game of "Three of These Things" with squares and circles.

Cartoon
Today's Secret Drawing: A camel.
(First: Episode 0158)

Muppets
"Everybody Moo": Cookie Monster and Herry make monster noises and animal noises and invite the viewer to do the same.
(First: Episode 0141)

Cartoon
Jazz #9 (repeat)

Film
"Nine Song (Song of Nine)"
(First: Episode 0016)

Muppets
Grover and Herbert Birdsfoot count to twenty.
(First: Episode 0189)

SCENE 7
Tom displays the word "wonderful", which begins with W.

Cartoon
"Wanda the Witch" (repeat)

Celebrity
Burt Lancaster says the alphabet.
(First: Episode 0006)

Cartoon
A man tries to get to sleep, but is woken up by a fly, a chicken and a drum-playing rabbit, all of whom call him on the phone after he throws them out.
Artists: The Hubleys
(First: Episode 0257)

Film
A film shows parts of a flower.
Music: Vivaldi's Concerto for lute, 2 violins and continuo in D Major II - Largo
(First: Episode 0008)

SCENE 8
Gordon tries to read his newspaper, but finds it hard when Oscar keeps staring at him. He tells Oscar to stop, and Oscar goes to work on his new toy chest instead, making more noise with a hammer and saw, further bothering Gordon. When Gordon tells Oscar to stop the noise, Oscar stares at him some more, and Gordon decides he'd rather have Oscar work than stare at him.

Cartoon
I've got a mind: squares make a box.
Artist: Cliff Roberts
(First: Episode 0252)

Muppets
Herbert Birdsfoot recites a poem with OP words, counting on Grover to hop whenever he says "hop" — repeatedly, until Grover faints.
(First: Episode 0150)

SCENE 9
Gordon tries to sign off, but is bothered by Oscar's noisy hammering and sawing.