Sesame Street
Plot
Mr. Hooper misses seeing Mr. Snuffleupagus
Air date
November 17, 1971
Season
Season 3 (1971-1972)
Sponsors
B, S, 4

This episode guide has been compiled from materials at the CTW Archives and the NHK episode guides.

ⓘ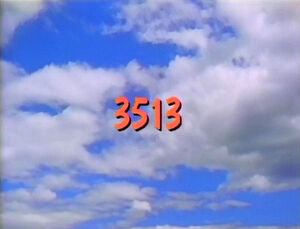 Mr. Snuffleupagus is sad because he wants to play on the barrels by Big Bird's nest, but they are behind a wall. The wall is too high for him to climb over and there is no hole in the wall for him to go through. Big Bird suggests opening the door, and explains what a door is. Mr. Snuffleupagus says he will have to remember that one.
Story: Bob reads "The King and the Fireman", a story about a king who becomes so grateful for being saved by a fireman that he decides to make everyone in the kingdom a firefighter... and soon realizes what a mistake he's made.
Molly helps Big Bird to pack his suitcase.
"Adding" - a song sung by Cookie Monster and a hipster about addition and subtraction. (EKA: Episode 0270)
Cartoon: A sprightly seal tells the story of six silly sailors who split up on a see-saw. (First: Episode 0002)
Cartoon: Jack waters a B, which grows into a B-stalk. He climbs it and travels to the Land of B. (EKA: Episode 0277)
At the beach, Ernie notices that Bert is missing; all he sees is Bert's hat. Sherlock Hemlock helps find Bert, and in the process, it turns out that Ernie accidentally buried Bert under the sand.
Two Anything Muppet boys are in the park, playing hide and seek. One hides while the other says the alphabet. Unfortunately, he doesn't know the whole alphabet, so he asks for help when he gets stuck. The other boy has to come out of his hiding place to help him finish the alphabet. He helps with Z, and then gets caught.
Film: George the Farmer counts 20 barrels.
Film: A dolphin walks backwards on the water.
Community content is available under
CC-BY-SA
unless otherwise noted.