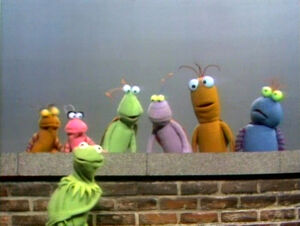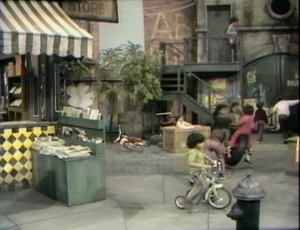 As Bob welcomes the viewers, Sesame Street is suddenly beset with an outburst of jackhammers and roaring compressors, as workmen begin to fix the street. Oscar the Grouch loves the noise, dirt and mess.
Ernie & Bert — Bert goes out to mail a letter, and depends on Ernie to let him in when he knocks. Instead of letting Bert in, Ernie repeats Bert's knocks on the drums.
Rafael makes the letter N with a folding ruler, and teaches the kids how to say N in Spanish and English
Oscar likes the letter N, because it begins nasty, noise, no, and nag. Rafael likes the letter N because it starts words like nice, neat, and new. Oscar thinks Rafael's words are nuts.
Rafael makes some shapes with a folding ruler
The Amazing Mumford begins his magic subtraction trick with four pineapples, and makes them disappear one at a time. Then Grover makes Mumford disappear.
Rafael shows kids how to read the word LOVE.
Muppet kids cooperate to decorate a clubhouse.
Oscar asks the Kids to imitate the rhythms he beats out.
The Miss Muffet Play: Little Miss Muffet rehearses for a play about her nursery rhyme. At the "Along came a spider" clue, Muffet's co-star enters wearing a number of different animal costumes, including a rabbit and a duck. Miss Muffet becomes increasingly annoyed -- and when he shows up as a fish, she grabs the parts of his fish costume off of him, and puts his spider outfit on. Naturally, once she sees the spider costume on him, Miss Muffet is frightened, and a crazy chase ensues.
Ernie & Bert — Ernie comes home to a sleeping Bert and tries to think of things to do that won't wake him up. He can't watch TV, and he can't play with his ball. Bored, he decides to take a nap too -- but then he starts to snore. This awakens Bert, who wonders out loud where the noise is coming from, in the process arousing Ernie, who gets mad at being woken up.
Rafael announces the closing sponsors.
Notes
Community content is available under
CC-BY-SA
unless otherwise noted.