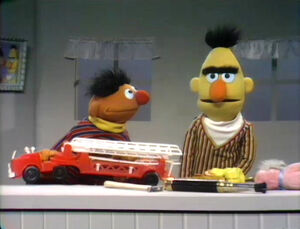 Picture
Segment
Description

SCENE 1
Gordon comes to Hooper's Store for a glass of water, but Mr. Hooper reports a problem - the faucet has been dispensing dirty, rusty water all day. Tom is in the midst of finding the issue.

Muppets
Five balls get together to play basketball. It takes them awhile to count themselves, but then they realize they don't have a ball.
(First: Episode 0267)

SCENE 2
Tom finds the source of the problem - one of the store's old, rusted pipes. He explains to a Muppet boy how this causes the water to become dirty.

Song
Joe Raposo sings "New Life."

SCENE 3
Tom finishes working on the pipes and they're all relieved when Mr. Hooper draws a clean batch of water.

Muppets
Herbert Birdsfoot recites a poem with OP words, counting on Grover to hop whenever he says "hop" — repeatedly, until Grover faints.
(First: Episode 0150)

Insert
Mr. Hooper, Susan, Gordon, Bob, and three kids are counted (in voiceover by Fran Brill) as they rearrange on the stoop.
(First: Episode 0258)

SCENE 4
Gordon and a kid organize a group of letters into the traditional alphabet.

Cartoon
Two alpine climbers hike up a letter Z and stake a claim on it.

Film
James narrates a film of his life on a pueblo in New Mexico.
(First: Episode 0153)

Muppets / Cast
The Anything Muppets sing "Before and After." (retaped version)
(First: Episode 0188)

Cartoon
Z for zebra and zoo

Muppets
Zs come out of Herry Monster's mouth as he snores. (part one)

Muppets
Ernie sings "Rubber Duckie."
(First: Episode 0136)

Cartoon
Jazz #7 (shown in English, then Spanish)
(First: Episode 0136)

Muppets
Ernie & Bert — Bert tells Ernie to put away his toys, and Ernie devises a system of arranging them. Unfortunately, all the categories he names apply only to his toy fire engine.

Cartoon
Speech Balloon: Z for zipper
(First: Episode 0025)

Cartoon
"Poverty Z": -- A figure tries to sell a Z. His only customer stops him by locking him inside a zoo cage.
Artist: Cliff Roberts
(First: Episode 0085)

SCENE 5
Tom sits by Oscar's trash can reading a newspaper. Oscar disturbs the peace by banging his drum, which makes Tom angry. Oscar says he's sorry, and Tom forgives him. Oscar realizes how much fun he can have by making people angry, then smoothing the tension by saying "sorry."

Cartoon
A young hipster dog explains to C.T. Wordsworth what an EXIT is.

Muppets
Cookie Monster uses the EXIT.
(First: Episode 0210)

Cartoon
A polar bear learns what "EXIT" means.
Animation: John and Faith Hubley
(First: Episode 0131)

SCENE 6
Susan blows up a kid's balloon, which Oscar causes her to let loose into the sky. He says he's sorry, though.

Film
A turtle walks slowly.
Music: "Funeral March of a Marionette" by Charles Gounod

SCENE 7
Oscar pulls his scheme once more on Mr. Hooper, who drops his boxes as a result of Oscar's drumming.

Cartoon
An N-terview with an N
Artist: John Paratore
(First: Episode 0131)

Muppets
Muppet & Kid Moment — Grover and Polly recite the alphabet.

Cartoon
N is naughty, nice, nodding, nickel, noon, nibbling, nest, nut, nose, night, nine, and nursing.
(First: Episode 0140)

SCENE 8
The adults turn the tables on Oscar. They shower him with nice flowers, but say they're sorry for doing so, thus he shouldn't be mad.

Cast
Gordon and Bob assemble a letter Z.
(First: Episode 0150)

Muppets
Grover's rowboat - part 1
Grover and a group of monsters, including Herry Monster, Fenwick and Billy, get into a rowboat. The monsters all gather at one end, causing the boat to tip over and sink.

Cartoon
Two alpine climbers hike up a letter Z and stake a claim on it. (repeat)

Muppets
Grover's rowboat - part 2
The monsters gather on the other end of the boat, and it sinks again.

Cartoon
Z for zebra and zoo (repeat)

Muppets
Grover's rowboat - part 3
The monsters finally spread out over the boat evenly, and row away.

Film
A man (Barry Simpson) puts on snowshoes to bring his trash out.
Music: Joe Raposo

SCENE 9
Susan recites a poem and the kids fill in the rhymes and act out the word.

Muppets
Old West: Sinister Sam is looking for the biggest man in the saloon. The frightened customers point him towards Big Barney, who's cowering under the table. When Sam discovers that Barney is the biggest man there, he gives him a hat: "This ol' hat here don't fit me. I thought maybe you could use it, huh? I'll see you, fellers." Sinister Sam leaves the baffled customers behind. "Now, that's a nice gesture," one says. "He's a little weird, but he's okay after all, isn't he?"

Film
There Once Was a Hand: Skip Hinnant narrates the story of an unhappy hand that wishes he could make a noise.
(First: Episode 0007)

SCENE 10
Oscar removes the flowers from his can, not buying Tom's apology for their trick on him.