Sesame Street
Molly explains the mail process; Big Bird and the chair delivery
Air date
November 26, 1971
Season
Season 3 (1971-1972)

Sponsors
H, V, 11

This episode guide has been compiled from script materials provided by a trusted source.

ⓘ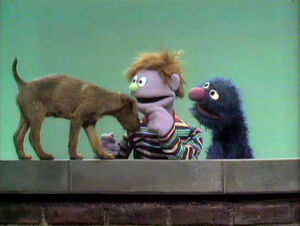 Picture
Segment
Description

SCENE 1
Molly comes to pick up the mail from the Sesame Street mailbox. She explains how this works to Marty, who never knew how the mail process went. After she goes through the work of opening the mailbox, collecting the letters, filling her bag, and closing the mailbox, Marty puts a letter of his own inside. He apologizes, not realizing he could have just handed it to her. Molly goes through the process again, then once more when Tom mails a letter. Finally, Big Bird comes out with a letter, but Molly quickly grabs it and stuffs it deep in her bag. Big Bird points out that letter was the one from his Granny Bird that Molly delivered earlier; he was just going out to read it. He claims Molly now has to go through all the mail in her bag to find it again and Molly sighs, "Some days I wish I were a fireman..."

Cartoon
Small v ... for voom, voice, violin, etc.
Artist: The Hubleys
(First: Episode 0167)

Muppets
Sherlock Hemlock encounters the letter V.
(First: Episode 0267)

SCENE 2
Gordon demonstrates the sound of the letter V.

Cartoon
Speech Balloon: V for Violin
A musician plays a violin, which instantly breaks.
(First: Episode 0052)

SCENE 3
Tom paints the letters T and V on the television screen.

Cartoon
Speech Balloon: V for Violin (repeat)

Muppets
"Has Anybody Seen My Dog?"
(First: Episode 0260)

Cartoon
Henson: Eleven Cheer
(First: Episode 0273)

Muppets
An Anything Muppet girl shows the viewers that the number 11 is the same right side up and upside down.
(First: Episode 0183)

Cartoon
A painter paints all around the screen, eventually painting over himself.
Music: Joe Raposo
(First: Episode 0243)

SCENE 4
Big Bird has been thinking about subtraction. He imagines Tom, Molly, and Gordon standing by him as they are all subtracted one by one.

Muppets
Ernie & Bert — Ernie has an important note for Bert, but he can't find it. He looks through the trash can for it and finds the note, which is a reminder that it is Bert's day to clean the apartment.
(First: Episode 0255)

Cartoon
A mad scientist puts together a capital H.
(First: Episode 0284)

SCENE 5
Tom demonstrates the sound of the letter H by making various laughing sounds beginning with H.

Cartoon
Howard and Harold think of H words
(First: Episode 0284)

SCENE 6
A chair delivery has been made to Hooper's Store, but instead of three identical chairs, there are two identical ones and one that is different. Tom asks Big Bird to place the different one in a box so it can be returned. However, despite one chair being visibly different, Big Bird focuses on all the things the chairs have in common and thinks Tom has made a mistake instead.

Cartoon
Speech Balloon: V for Violin (repeat)

SCENE 6
cont'd
Big Bird explains the situation to Tom, who opens his eyes to the ways one chair is different than the others.

Film
A little boy narrates the various activities his family partakes in on a typical Monday.
(First: Episode 0127)

Muppets
Bob and the Anything Muppets sing "The People in Your Neighborhood": Grocer and Doctor.
(First: Episode 0067)

Cartoon
I Thought a Thought ... about small things. A man thinks about small things, and lists them. A sea monster thinks it is small, especially when compared to its father!
Artist: Cliff Roberts
(First: Episode 0241)

Cast
Gordon and Mr. Hooper have ice cream on a hot day, but can't remove their sweaters by themselves, until they cooperate.
(First: Episode 0193)

Muppets
Grover and Herbert Birdsfoot count to twenty.
(First: Episode 0189)

Cartoon
Eleven Cheer (repeat)

SCENE 7
Gordon and the cast sing "Play Along".

Film
Dot & hill B-3 (2:11)

Cartoon
Clouds that look like things.
(First: Episode 0211)

Muppets
Ernie & Bert — Bert has wrapped a surprise present which Ernie thinks is for him. He tries to guess what it is so as not to spoil the surprise. After a few wrong guesses, he unwraps it before Bert can stop him. It is indeed a surprise, a lady's hat with flowers. Bert had wrapped the gift for his Aunt Matilda.
(First: Episode 0165)

Celebrity
Bill Cosby demonstrates what a surprised face looks like.
(First: Episode 0138)

Film
Green Tree Snake
Music: Joe Raposo

Muppets
An Anything Muppet boy and girl have a conversation using the letters of the alphabet.
(First: Episode 0273)

SCENE 8
Oscar and Tom both sing verses of "One of These Things" using pictures of elephants and trash cans.

Cartoon
"That's About the Size of It"
Artist: Bud Luckey
(First: Episode 0279)

Muppets
A boy watches a circle around him get bigger and smaller.

Film
A bumble bee
Music: Joe Raposo
(First: Episode 0082)

SCENE 9
The sponsors are announced and the credits roll.