Sesame Street
Oscar puts up too many "NO" signs
Air date
December 14, 1971
Season
Season 3 (1971-1972)

Sponsors
P, U, 12

This episode guide has been compiled from script materials provided by a trusted source.

ⓘ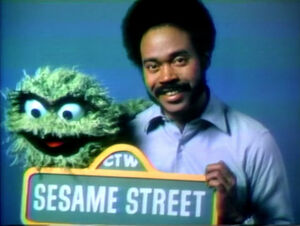 Picture
Segment
Description

SCENE 1
Gordon points out to the viewer that there aren't any cars parked along the street because of the sign reading "No Parking" in the area. Oscar becomes inspired by the power a simple "no" sign has and starts scheming...

Cartoon
Dot Bridge #14: Dots line up at the same time as some squares who ultimately dominate the board

Muppets
Kermit's Lectures: Kermit the Frog introduces the word "no," causing confusion when Grover comes by asking what his sign says. (transcript)

SCENE 2
Oscar's trash can is now surrounded by various signs stating "No..." (such as "No Visitors," "No Talking, No Deliveries," etc.). He hopes the signs will keep people away from his trash can just as the street sign keeps people form parking.

Cartoon
Adding up five ladybugs and five lizards
(First: Episode 0277)

Cartoon
Dot Bridge #16: Dots kick aside a crumpled object
(First: Episode 0283)




SCENE 3
Bob has a package for Oscar, but because of the "No Deliveries" sign, Bob keeps his distance. Mr. Hooper then comes by with some trash from the store, but keeps on walking because of the "No Dumping" sign. Oscar finally realizes the signs were a bad idea when they keep the Mudman from peddling his wares.

Muppets
Sherlock Hemlock helps Ernie discover how his window got broken. Ernie finds that the only evidence is a baseball, and together with Sherlock Hemlock try to find out how who broke Ernie's window. It turns out that Sherlock Hemlock, who is the number five player of the Sesame Street Sluggers, hit a home-run which caused the baseball to go through the window.
(First: Episode 0238)

Celebrity
The New York Knicks make 8 baskets in a row, but miss on the 9th.
(First: Episode 0146)




SCENE 4
Maria has a wallpaper sample, as well as several rolls of wallpaper. She gets Big Bird to play a game by finding which roll matches the sample. When he sees one that could be a match, he asks her to extend the roll and place the two on the ground so he can get a better look. He accidentally gets a big bird footprint on both.

Muppets
An Anything Muppet boy meets Alphabet O'Malley, whose full name consists of twenty-six first names, each one starting with a different letter of the alphabet.
(First: Episode 0135)

Film
James narrates a film of his life on a pueblo in New Mexico.
(First: Episode 0153)

Muppets
Two children, who can only read some words, resolve their fight over a large book by helping each other and reading alternate words.

Celebrity
The New York Knicks make 11 shots, but miss on the 12th.
(First: Episode 0154)

SCENE 5
Mr. Hooper hawks the fabulous number 12 - "Settle for nothing less than 12!"

Cast
Bob assembles a large number 12.
(First: Episode 0173)

Cartoon
Drawing a kite that turns into a fish (w/ child voiceover in Spanish).
(First: Episode 0277)

Cartoon
Drawing a kite that turns into a fish (w/ child voiceover).
(First: Episode 0222)

Muppets
Professor Hastings discuss the letter U, but in his confusion, he first thinks he's talking about "you" (meaning himself), then his announcer.
(First: Episode 0176)

Cartoon
Letter U salesman
(First: Episode 0202)

Muppets
An Anything Muppet presents the letter U. Another Muppet repeatedly insists, "That's not a 'me,' that's a U!"
(First: Episode 0048)

SCENE 6
Bob sings the "Sorting Song" using kitchen utensils and soap.

Film
George the Farmer saws the legs off a table.

Song
Joe Raposo sings "Eating" while animals eat.
(First: Episode 0106)

SCENE 7
Gordon explains that all living things need food as he tends to a flower. A miniature Muppet cow (Jerry Nelson) comes by and eats the flower, which will allow her to make milk. "When you stop to think about it, that's a lot of things working together," observes Gordon.

Muppets
A boy thinks that a girl is talking about him when she expresses her love for the perfect picture of U.

Film
A man spins in circles while riding in his kayak.
Music: Joe Raposo

Muppets
Ernie & Bert — Bert hears the phone ringing inside a basket, and asks Ernie to answer it. Ernie goes through the basket, and finds a banana. He pretends it's a phone, and gives it to Bert to talk on. Ernie answers the real phone, and tells the caller that Bert can't come to the phone because he's talking on the banana.
(First: Episode 0004)

SCENE 8
A kid stops by Hooper's Store and orders a quart of milk in Spanish. Mr. Hooper doesn't understand, but fortunately Maria comes by and translates.

Cartoon
A dog learns about U.
(First: Episode 0131)

Film
Kids narrate a film about where you get ice cream: from the cow, to the factory, to the ice cream shoppe.
(First: Episode 0168)

Muppets
Ernie & Bert — While cutting an onion into slices, Ernie sees Bert playing with a toy truck. Ernie suddenly starts to cry; Bert, to try to cheer him up gives the toy to his buddy realizing just then that Ernie's crying was caused by the onion.
(First: Episode 0259)

Film
Most animals have two eyes, ears, etc. ... but some snakes have two heads.
Music: Joe Raposo
(First: Episode 0287)




SCENE 9
Gordon has a box and gives Oscar clues as to what's inside - it begins with P, it's small, furry with floppy ears and four legs. Oscar believes it to be a type of pickle and is repulsed when Gordon opens the box, revealing a puppy.

Film
A boy paints a picture of a porcupine on glass.
(First: Episode 0064)

SCENE 10
Big Bird has a bag full of birdseed. He eats some, then some more until there's none; now he's full of birdseed.




Muppets
Guy Smiley hosts the game show "What's My Part?". The contestant is Mr. Nose. The panelists -- Bennett Snerf, Arlene Frantic and Cookie Monster -- don't know what a nose is, because none of them have noses.
(First: Episode 0131)




SCENE 11
As Maria, Bob and the kids play with the new puppy, Gordon announces the sponsors.