Sesame Street
Plot
Mr. Snuffleupagus wants a glass of water.
Air date
December 23, 1971
Season
Season 3 (1971-1972)
Sponsors
B, S, 8

This episode guide has been compiled from materials at the CTW Archives and the NHK episode guides.

ⓘ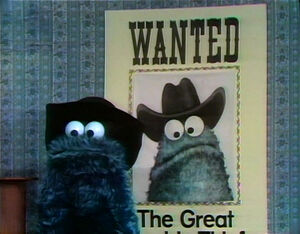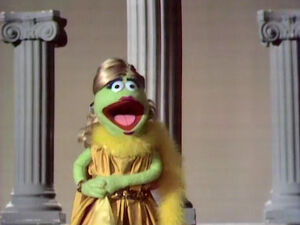 Using an art card and an imaginary chair, Luis demonstrates the word "SIT".
Cartoon: A man teaches his dog Rover how to read the word "SIT."
Speaking in Spanish, Luis and Antonio decide to cooperate in setting up a basketball game. The shorter Antonio inflates the ball while Luis puts the net on the hoop.
Hubley animation: A man lists several modes of transportation beginning with "S", only to have himself encounter each item.
Molly has a card with a picture of a simple face. She also has a long card with three similar faces on it -- but two of the faces have something missing. Molly asks some kids to match the faces that are exactly the same.
Four Anything Muppet cowboys put up a Wanted poster for "the Great Cookie Thief", who's been stealing cookies from all the bakeries in these here parts. Cookie Monster is standing in front of the poster, and the others suspect that he's the Great Cookie Thief -- he has the same googly eyes, the same blue fur, and the same Western hat. They confront Cookie Monster, but he denies the charge: "Not have same mustache!" He shouts, "Look over there!" -- and while they're distracted, he draws a mustache on the poster. They apologize -- but then Cookie Monster takes off his hat, and cookies fall out. The Great Cookie Thief makes his escape. (First: Episode 0276)
Marty has a toy sailboat which he has made by himself. One of the kids also has a sailboat -- a store-bought one. Marty's boat does not compare with the store-bought toy, but he wins the kid's praise, and regains his pride, because the simpler toy was made with his own hands.
Using licorice sticks, Molly and Luis demonstrate the difference between "longer" and "shorter".
Cartoon: A sprightly seal tells the story of six silly sailors who split up on a see-saw. (First: Episode 0002)
Cartoon: A little fellow explains that "S" is for snow and Santa, then ends up getting hit by Santa's sleigh. (First: Episode 0134)
Mr. Snuffleupagus looks for something to drink. Big Bird offers to get a drink of water, and asks Snuffleupagus to wait right there. But Snuffleupagus wanders off, and Big Bird can't find him when he returns with a glass of water. He describes the creature to Luis and Molly in searching for him; his limited description seems to fit a kitten or a chair. At last, Mr. Snuffleupagus sneaks up behind him and empties the water glass with his trunk.
Gordon and a kid are cleaning windows. Gordon explains how dirt is transmitted through the air.
Mr. Hooper and Bob have an argument every time one or the other uses the only hanger around to hang his coat. They decide to cooperate, and hang both their coats on one hanger.
Animated bridge: Dot and Hill