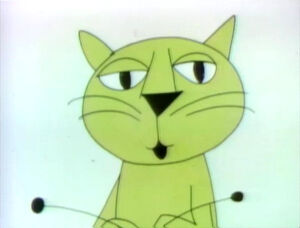 David finds a plate with a half-eaten piece of blueberry pie on the ground near several kids playing tag. By observing the dubious clue of a blueberry smear on one particular child's face, he decides who the pie belongs to.
Cartoon: "K" - Kangaroo. A man (voiced by Gary Owens) explains what a kangaroo is, and ends up in the pouch of one. (EKA: Episode 0142)
Luis is taking his alarm clock to be repaired, but Big Bird can't see anything wrong with it. He tries to wind the clock, only to discover that it falls apart when it's wound up.
Molly asks David if he knows her favorite word that starts with the letter K. She kisses him on the cheek and tells him the word is "kiss".
Cartoon: "K" -- A kitten knits a kerchief, a kite, and a polka-dot mitten.
Luis explains that everybody has bones inside them, and introduces a film of an almost-transparent animal with visible bones.
Mr. Hooper counts out twelve pencils in English; Luis counts twelve steps down to the ground in Spanish; David counts as he jumps up and down twelve times.
Mr. Hooper washes his dishes in a tub. He explains that he doesn't use running water so that he conserves clean water.
Molly explains to Big Bird that all letters that go through the mail must be in an envelope with a stamp and an address on it.
David plays a game called "Rhythm Telephone". He claps out a rhythm at the head of a line of kids. Each kid passes the rhythm along from person to person until it reaches Mr. Hooper. Then we see if the rhythm Mr. Hooper claps out is the same one David started with.
Luis explains that his feet are below everything else on his body; his head is above everything else on his body; his chest is below his head; his knees are below his chest but above his feet.
Molly asks Oscar the same question she asked Luis and David: Does he know her favorite word that begins with the letter K? When she kisses him and tells him the word is "kiss", Oscar is most upset. He doesn't think "kiss" is such a nice word.
Community content is available under
CC-BY-SA
unless otherwise noted.