Sesame Street
Plot
Luis plays "Simple Simon" with Big Bird and the kids.
Air date
January 3, 1972
Season
Season 3 (1971-1972)
Sponsors
V, 4

This episode guide has been compiled from materials at the CTW Archives.

ⓘ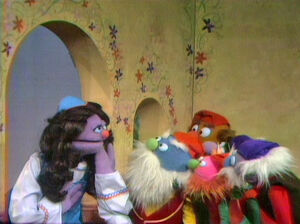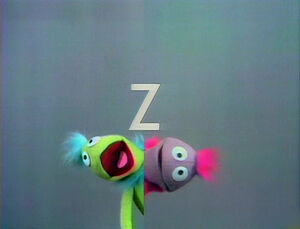 Tom announces that 4 is the number today; he asks some kids and Big Bird to look all around Sesame Street to see if they can find something with 4 legs. Big Bird runs off and bumps into his friend, Mr. Snuffleupagus, who has 4 legs, but Snuffy disappears before he can show Tom.
Alien Alphabet: Two abstract Anything Muppets recite the alphabet as they dart in and out of frame and pop out of a split-screen.
Film / Animation: The ET family is demonstrated in a story of the zet, a quick-witted bird. (EKA: Episode 0296)
Luis is playing "Simple Simon" in Spanish with some kids. Along comes Big Bird, who joins in by imitating the kids, touching parts of his body.
The letter "V" made out of colored sand is on the floor. Tom comes along and makes it vanish with a vacuum cleaner.
Hubley animation: A letter "V" takes its vitamins.
Ernie discovers that he can't read his picture book because he is holding it upside down.
Susan sings the Classification Song as she regroups some colored shapes.
Four Muppets cooperate to grow a flower together. One has a flower seed, one has a flower pot, one has some dirt, and one has a shovel. The rain and sunshine finish the job.