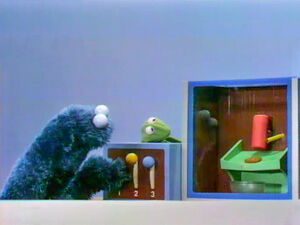 Mr. Hooper talks about some things that come in twos.
Bob explains to Big Bird that he's taking his stained coat to the cleaner, his broken alarm clock to the jewelry repair shop, and his broken guitar to the music store.
Cookie Monster demonstrates some C words.
The Amazing Mumford begins his magic subtraction trick with four pineapples, and makes them disappear one at a time. Then Grover makes Mumford disappear. (EKA: Episode 0280)
Big Bird opens a BIKE WASH business. He has buckets of water, a broom, and rags to wash the bicycles with. Mr. Snuffleupagus suggests that he'll do a faster job if he sprays water on the bicycles with his trunk.
Kermit tests Cookie Monster with his new monster testing device. He wants to see if Cookie Monster can figure out how to get the cookie out of the machine. Cookie Monster proceeds to crush the cookie in the contraption into crumbs and pour water on them. But he's delighted with the results -- cookie soup.
A Muppet demonstrates bigger and bigger circles and small and smaller circles. (First: Episode 0285)
Cartoon: Two men talk about c-words including cough, cold, crack, and cry. (EKA: Episode 0294)
Cartoon: Things say that other things are small, but then something comes along that's bigger, or smaller, or whatever.
Bob regroups a number of objects.
The ice cream scoop is a little invention that saves a lot of work.