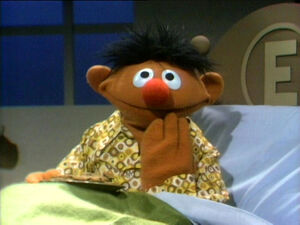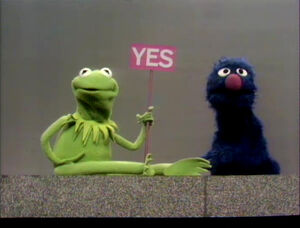 Luis is wearing a homemade button on his lapel. He is very proud of it because it is his creation and the only one in the world. He meets Big Bird, who borrows the button to copy it. Everyone admires the button so much that eventually Mr. Hooper, Molly, Rafael and some kids are all wearing identical homemade buttons. When Luis returns to claim his button he is even more proud than before to find that his button has started a craze.
Rafael has two identical boxes and three old hats. He puts one hat in one box, and he puts two hats in the other box.
The Amazing Mumford waves his magic wand over a transparent glass cookie jar and makes the jar become full of cookies and then empty (over and over) as an anxious Cookie Monster watches.
Rafael claps out a rhythm and asks everyone to duplicate it. Luis stamps it out with his feet; Molly drums it out with her fingers; Big Bird beats it out on a drum.
Herry spots a rectangle first. Grover tells Herry it isn't a triangle, and becomes frustrated. Next he spots a square, Grover tells him it isn't a triangle, and once again is frustrated. Grover suggests that Herry should cut the square in half and make two triangles. (First: Episode 0195)
Luis has a couple of hammers and Rafael has some nails. In a conversation (in Spanish) they decide that they can fix the broken fence if they share their equipment.
Oscar and Grover recite the alphabet.
Oscar and Molly imagine what it would be like if everyone threw their trash on the ground.
Film: Kids paint various animals that begin with "P" on a window. (First: Episode 0119)
Cartoon: "Story of P" - The story of a puppy found in a park by a policeman. (EKA: Episode 0296)
Film: Swimming and flying pelicans.
Molly sings the "Selection Song."
Community content is available under
CC-BY-SA
unless otherwise noted.