Sesame Street
Cookie Monster is left alone with Susan's cookies.
Air date
January 20, 1972
Season
Season 3 (1971-1972)

Sponsors
T, 6

This episode guide has been compiled from materials at the CTW Archives.

ⓘ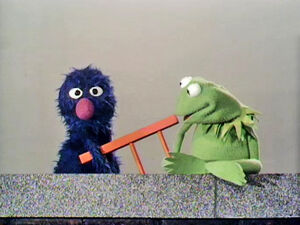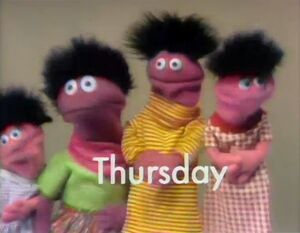 Susan has finished baking some cookies. She must leave, and asks Big Bird to take care of the cookies for her while she's gone. Big Bird has to go to the store, so he asks Cookie Monster to take care of the cookies. Though Cookie Monster is sorely tempted, he does not eat the cookies; he keeps his promise. When Susan returns, she tells Cookie Monster that she baked the cookies for him!
By holding his arms out, Tom forms the letter T with his body.
Three Anything Muppets (including Farley) wait for a bus at a bus stop. To their surprise, the bus is very small, and two small Muppets get off of it. (EKA: Episode 0239)
Rafael explains why he's putting fresh water into his goldfish bowl.
Bob and a Muppet ask "Who Are You?"
By lying on the ground and sticking his arms and legs into the air, Tom forms the letter U with his body.
Kermit's Lectures: Kermit has Grover show the difference between short and long with ladders. He is amazed that Grover can carry the long ladder by himself, but then learns that Grover is on both ends. (First: Episode 0276)
Big Bird counts six kids playing follow the leader.
Cartoon: A Casey Kasem-voiced man explains the letter T with a TV that plays a concert. When the man begins to sing with it, the conductor on the TV set "turns him off" by tweaking his nose. (First: Episode 0024)
Cartoon: A poem filled with T words, including a teacher, toys, Texas, and "turtles with brains". (EKA: Episode 0024)
Cartoon: A man talks about the capital T, but the top line slides down, forming a lowercase one. (Spanish version)
Bob talks about the sea horse.
Community content is available under
CC-BY-SA
unless otherwise noted.