Sesame Street
Oscar decides to move his trash can
Air date
January 21, 1972
Season
Season 3 (1971-1972)

Sponsors
T, X, 7

This episode guide has been compiled from script materials provided by a trusted source.

ⓘ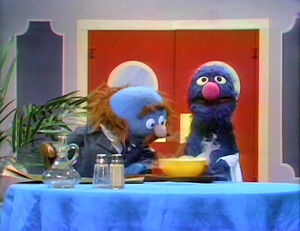 Picture
Segment
Description

SCENE 1
Oscar is tired of his trash can being in one place all the time. He wants a change of view and decides to move.

Cartoon
The great Alphonso and his trained X's
(First: Episode 0299)

SCENE 2
Oscar sets up his can at the top of the steps in front of 123 Sesame Street. Luis bumps into him, and warns him that his can could be knocked down the steps if he stays there. Oscar agrees to move somewhere else.

Cartoon
Jazz #7 (Spanish)
(First: Episode 0136)

SCENE 3
Oscar sets up his can at Hooper's Store, where Mr. Hooper warns him that he'll be around a lot of ice cream and candy, which grouches hate.

Cartoon
"Poverty X": A peanut-shaped figure lists the words that the letter "X" can be found in.
(First: Episode 0006)

SCENE 4
Bob goes to visit Big Bird, and is flabbergasted when he finds Oscar's can inside Big Bird's nest. Bob tells him that trash cans don't belong in nests, but Oscar doesn't want to move this time. Bob has an idea …

Cartoon
A poem filled with T words, including a teacher, toys, Texas, and "turtles with brains".
Voice: Bob Arbogast
(First: Episode 0024)

SCENE 5
Bob brings some hay to Oscar's old spot, and argues with Mr. Hooper and Luis over who needs the spot more. When Oscar witnesses this, he realizes he'd rather have his old spot.

Cartoon
Brand X
(First: Episode 0299)

Muppets
Waiter Grover: Mr. Johnson wants a bowl of hot alphabet soup, and he really wants it to be hot. He looks to make sure that each letter of the alphabet is in his soup, but he is missing some. By the time Grover brings in all the missing letters, the soup is cold.
(First: Episode 0276)

Film
Footage of a rattlesnake
(First: Episode 0294)

Cartoon
The Story of Cowboy X, with the voices of Jean Shepherd

SCENE 6
Bob sings "Three of These Things" as he sorts by quantity.

Cartoon
Speech Balloon: X for X-ray
(First: Episode 0064)

Muppets
Ernie has a stack of seven cupcakes that he wants to take a picture of, but Cookie Monster keeps stealing cupcakes (which he calls "cuppycakes").
(First: Episode 0136)

Cartoon
Speech Balloon: T for train (Spanish)
(First: Episode 0022)

Film
Joe Raposo: What Babies Are Called
(First: Episode 0116)

Film
New Bridge #5 - Bounce
(First: Episode 0105)

SCENE 7
Big Bird reads a letter from Granny Bird, and is visited by Mr. Snuffleupagus. Snuffy is sad because he thinks that he's just the same as everybody else, but Big Bird shows him that he's different: Snuffy has four big stumpy feet and Big Bird has two skinny feet; he has a great big long skinny, twirly nose and Big Bird has a beak; he lives in a cave and Big Bird lives in a nest. Once Snuffy leaves, Luis visits, and doesn't believe Big Bird's claim that Snuffy is real.

Muppets
Kermit asks the viewers to play a weather imagination game. First, Kermit imagines it's a warm, sunny day. Then he imagines that it's raining hard. Then he imagines that it's a snowy, windy day.

Cartoon
"Four Seasons"
(First: Episode 0276)

Film / Animation
Part 1: A boy declares he wants to build a building. He and an adult voiceover describe how the building will be made, intercut with stop-motion animation and live-action footage. The two then wait for the foundational cement to dry...
(First: Episode 0142)

Cast
Bob and Gordon cooperate to get apples from a tree.
(First: Episode 0210)

Film / Animation
Part two: With the cement dried, the boy's building is brought to completion.
(First: Episode 0142)

Animation
A 3 looks for its house.
(First: Episode 0292)

Muppets
Western: Four Anything Muppet cowboys put up a Wanted poster for "the Great Cookie Thief", who's been stealing cookies from all the bakeries in these here parts. Cookie Monster is standing in front of the poster, and the others suspect that he's the Great Cookie Thief -- he has the same googly eyes, the same blue fur, and the same Western hat. They confront Cookie Monster, but he denies the charge: "Not have same mustache!" He shouts, "Look over there!" -- and while they're distracted, he draws a mustache on the poster. They apologize -- but then Cookie Monster takes off his hat, and cookies fall out. The Great Cookie Thief makes his escape.
(First: Episode 0276)

Film
A kid enters a tunnel made of snow to demonstrate "head first" and "feet first."
(First: Episode 0290)

Muppets
Two brothers, First and Last, sing about how their names affect how they do things.
(First: Episode 0134)

SCENE 8
Bob sings "Stop!" (with new lyrics) and plays with some kids.

Film
The Mad Painter #7
(First: Episode 0314)

Muppets
Ernie & Bert — Bert has wrapped a surprise present which Ernie thinks is for him. He tries to guess what it is so as not to spoil the surprise. After a few wrong guesses, he unwraps it before Bert can stop him. It is indeed a surprise, a lady's hat with flowers. Bert had wrapped the gift for his Aunt Matilda.
(First: Episode 0165)

Cartoon
I Thought a Thought ... about small things. A man thinks about small things, and lists them. A sea monster thinks it is small, especially when compared to its father!
Artist: Cliff Roberts
(First: Episode 0241)

Cartoon
Brand X (repeat)

SCENE 9
The sponsors are announced and the credits roll.
See Also