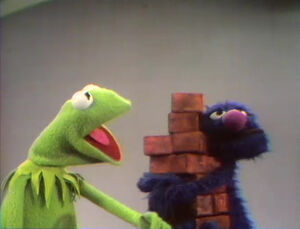 Picture
Segment
Description

SCENE 1
Mr. Hooper imagines what it would be like if a kid were the only person on Sesame Street. The kid takes on the roles of Mr. Hooper, Tom, Molly, Big Bird, Gordon, and Oscar, and gets lonely.

Cartoon
"Poverty Q": A figure demonstrates Q words, despite the unruly stem of his letter Q that keeps detaching itself.
(First: Episode 0048)

Muppets
Ernie has four apples, and wants to draw the number 4, showing that he has four apples. However, Cookie Monster wants to eat an apple, so Ernie crosses out the 4 and draws a 3. Then Cookie Monster decides not to eat the apple, causing Ernie to have to cross out the 4 again and draw another 3, over and over again.
(First: Episode 0140)

Film
"Hey, let's make a road!" Kids do so at the beach, while a construction crew does the real thing.
(First: Episode 0295)

SCENE 2
David and kids sing "Walk Down the Street".

Film
Dot Bridge #8 (0:59)

Muppets / Cast
Bob reads "Yolanda and the Youth", a story about a youth who wins the hand of Princess Yolanda by passing the "Y" test.
(First: Episode 0174)

Animation
Today's Secret Drawing will be a nurse.
(First: Episode 0239)

SCENE 3
Two children want their picture taken. Molly only has one photo left on her roll of film. After arguing for a while, the children decide to cooperate and have a picture taken together.

Song
Joe Raposo sings "Kangaroo Blues."
(First: Episode 0277)

Muppets
Alien Alphabet
(First: Episode 0277)

Cartoon
Speech Balloon: Y is for Yo-Yo
(First: Episode 0036)

Film
New Bridge #1 - Panel Drop
(First: Episode 0105)

Muppets
Lefty the Salesman wants to sell Ernie a painting of a tree, which he says is a picture of four elephants. Ernie doesn't see the four elephants, so Lefty offers to show him the elephants if Ernie will buy the picture for a nickel. Lefty points out the elephants, which are actually spaces in the tree's branches. Ernie shells out for the picture. Ernie wants to pull the same trick on Bert, but Bert notices the elephants right away.
(First: Episode 0292)

Cartoon
Q -- that funny looking thing.
(First: Episode 0131)

SCENE 4
Mr. Snuffleupagus sings "Doin' the Snuffleupagus" and dances. Big Bird tries to imitate him, but can't.

Cartoon
Various renderings of the word DANGER.
Artists: The Hubleys
(First: Episode 0151)

Muppets
Grover reads a sign that says DANGER and looks around for said danger. He doesn't find it anywhere until he trips and falls on the sign.
(First: Episode 0182)

Muppets
Muppet & Kid Moment — Cookie Monster asks David to read a DANGER sign.
(First: Episode 0279)

Cast
Bob comes across a DANGER sign next to a frozen pond. Ignoring the sign, he skates on the ice (via pixillation) until it starts to crack. Bob then concedes the sign is there for good reason.
(First: Episode 0213)

SCENE 5
Mr. Hooper introduces the next film.

Film
A talking tree tells a boy about the difference between here and there, near and far, and close and next to.
(First: Episode 0111)

Muppets
Kermit's Lectures: Kermit and Grover demonstrate "here" and "there".
(First: Episode 0277)

Film
Sesame Street Animal Films: A turtle swims in a tank.
Music: Joe Raposo
(First: Episode 0283)

SCENE 6
At Hooper's Store, Big Bird looks around for some donuts for himself and Little Bird, but Big Bird accidentally puts the cake cover on top of him and suddenly can't find him. Big Bird and Mr. Hooper look around for Little Bird, but they keep accidentally covering Little Bird multiple times with Mr. Hooper's hat, a metal milkshake container, and the cake cover.

Celebrity
Flip Wilson counts from 1 to 20.
(First: Episode 0147)

Film
Male and female snow people narrate their own construction.
Music: Joe Raposo
(First: Episode 0277)

Muppets
Ernie & Bert — Ernie thinks that he isn't special. Bert tells Ernie to feel his nose -- "That's an Ernie nose!" -- and then feel his hair, and wiggle his fingers. Bert says that nobody else is just like Ernie. Encouraged, Ernie tells the audience to do the same.
(First: Episode 0276)

Film
Puzzle (2:56)

Animation
Today's Secret Drawing will be a nurse. (Spanish version)

Muppets
An Anything Muppet girl adds 4 galletitas (cookies) in Spanish. Cookie Monster interrupts, then eats all the cookies when he learns the Spanish meaning.

Film
Balloon #2 (0:13)

SCENE 7
Molly says Y is for Yarn. Oscar says that Y is for Yell.

Cartoon
Y for yawn
(First: Episode 0301)

SCENE 8
Molly and the kids look for Ys hidden in a picture.

Cartoon
"Bumble Ardy #9" -- Young Bumble Ardy invites nine pigs to his birthday party while his mother, Sweet Adeline, is away.
(First: Episode 0283)

Transition
Bridge #9 - Rectangle Bridge C
(First: Episode 0290)

Muppets
Some AM kids get ready to play baseball. A Fat Blue (Jerry Nelson) brings a bat, Prairie Dawn (Fran Brill) brings a glove, and a Lavender (Caroll Spinney) brings a catcher's mask. A Hot Pink (Frank Oz) brings a hockey stick, and a tennis racket, before producing a box... which holds the baseball.
(First: Episode 0193)

Transition
Bridge #17 – Hourglass Fast/Empty

Cartoon
Speech Balloon: Y is for Yo-Yo (repeat)
(First: Episode 0036)

Cartoon
A yak discusses the letter "Y" on a stage, and is insulted when it is called a "Yakkity-yakkity-yak".
(First: Episode 0301)

SCENE 9
The sponsors are announced.
Community content is available under
CC-BY-SA
unless otherwise noted.