Sesame Street
Plot
Everyone celebrates Antonio's birthday with a traditional Mexican fiesta
Air date
February 2, 1972
Season
Season 3 (1971-1972)
Sponsors
Z, 4

This episode guide has been compiled from materials at the CTW Archives.

ⓘ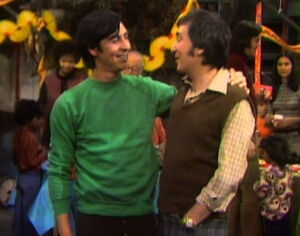 Mr. Hooper, wearing a circus ringmaster's top hat and cape, tries to balance four cans at a time.
Luis, Maria and Susan make tacos for the birthday party.
As he decorates the yard for the birthday party with Mr. Hooper and Rafael, Bob sings the Sorting Song.
The decorations for the party are complete. People bring platters of food. Bob and Luis sing "Bienvenidos!" as everyone gathers in the yard for the birthday party.
Kermit gets to be all over the place. There's a frog in a nest and in a box. There's a frog on the counter and on the trash can. There's a frog under the table and under the newspaper. (EKA: Episode 0295)
Antonio arrives, and the Mexican fiesta begins. Everyone wishes him a happy birthday, in English and Spanish. He's delighted to see all the food: enchiladas, frijoles, arroz, tacos, pasteles and hot chile. They sing "Las Manitas" and "Cumpleaños Feliz" for Antonio.
It's time for the piñata at the party. Antonio gives it a good whack with the broom handle, and candy and nuts and little toys come flying out of it.
As the party continues, Oscar comes in with his "Grouch Piñata". He whacks at the ugly thing and out comes rocks, old sneakers, dust and spiders!
Maria carries out a large birthday cake with eight candles on it, and brings it to Antonio. He blows them all out, and the mariachis break into a lively song as everyone starts dancing.
Cartoon: "Z" -- A ringmaster explains that "Z" is for zebra and zoo. (EKA: Episode 0307)
Notes