Sesame Street
Mr. Hooper asks Oscar to take care of the trash in his store
Air date
February 3, 1972
Season
Season 3 (1971-1972)

Sponsors
K, Z, 5

This episode guide has been compiled from script materials provided by a trusted source.

ⓘ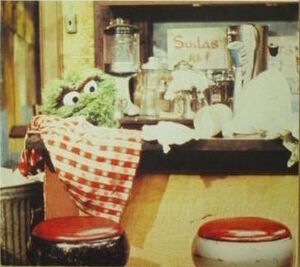 Picture
Segment
Description

SCENE 1
Maria greets the viewer, then teaches the Verbena game to Big Bird and the kids. The game reminds Big Bird of "London Bridge".

Song
"1-2-3-4-5!"
(First: Episode 0144)

Muppets
A Japanese storyteller tells "The Mystery of the Four Dragons". An aged emperor offers the throne to his son if he can find four hidden dragons in the room.
(First: Episode 0299)

SCENE 2
Mr. Hooper tells Oscar that he had a lot of trash in the basement of his store. He asks if Oscar will take care of it for him. Oscar is delighted.

Cartoon
Speech Balloon: K - Key
(First: Episode 0040)

Muppets
"K" Cheer #4
(First: Episode 0102)

SCENE 3
At the store, Oscar spreads the junk all over the store as if he were a decorator. He thinks the store looks great now!

Song
Sesame Street Animal Films: Joe Raposo sings "Penguins Five."
(First: Episode 0245)

SCENE 3
cont'd
Oscar continues decorating (and desecrating) the store.

Cartoon
"Poverty K" - Karen the Kangaroo talks about words that start with the letter K. Featuring the sped-up voice of Gene Moss.
(First: Episode 0142)

SCENE 3
cont'd
When Mr. Hooper returns, he insists that Oscar take all the trash away, and put it in his trash can. Again, Oscar is delighted.

Muppets
Ernie & Bert — At the beach, Ernie notices that Bert is missing; all he sees is Bert's hat. Sherlock Hemlock helps find Bert, and in the process, discovers that Ernie accidentally buried Bert under the sand.
(First: Episode 0278)

Song
"1-2-3-4-5!" (repeat)
(First: Episode 0144)

Celebrity
The stars of Bonanza appear: Hoss and Mr. Cartwright take turns saying letters of the alphabet; Little Joe rides up in time for Z.
(First: Episode 0136)

Cartoon
The Pink Panther - K For Karate
(First: Episode 0241)

Transition
Leaf drops bridge #13 (0:10)

Cartoon
A kitten is knittin' a kerchief, a kite, and a polka-dot mitten.
(First: Episode 0282)

SCENE 4
Bob throws a ball over Mr. Hooper's head. David throws one through his arms. Mr. Hooper dribbles the ball and runs around David.

Muppets
Grover is carrying the word "HELP", which is very heavy. He asks Marty to help him carry the word. Instead, Marty gives Grover three more "HELP" words to carry.
(First: Episode 0287)

Cartoon
"K" - Kangaroo - A man (voiced by Gary Owens) explains what a kangaroo is, and ends up in the pouch of one.
(First: Episode 0141)

Cast
Two kids cooperate on putting on smocks for painting.
(First: Episode 0284)

Cartoon
I've Got a Mind: Wind-up toy
(First: Episode 0255)

Muppets
Bob and the Anything Muppets sing "The People in Your Neighborhood": Dentist and Bus Driver.
(First: Episode 0106)

Film
Sesame Street Animal Films: Fish swim around.
Music: Joe Raposo
(First: Episode 0284)

Muppets
Ernie & Bert — Ernie doesn't want to disturb Bert as he reads the newspaper, so he intends to write down what he needs to say. He interrupts Bert anyhow to ask how to spell the word "HELP," then to make sure his sign is correct. Bert suddenly becomes concerned that Ernie needs his help, but it turns out that Ernie has made a "Help Yourself" sign in regards to a plate of cookies he's prepared.
(First: Episode 0287)

Cartoon
K is for kiss.
Animation: John and Faith Hubley
(First: Episode 0131)

Film
A garfish swims around.
(First: Episode 0254)

Muppets
Muppet & Kid Moment — Grover and Loren count to twenty.
(First: Episode 0290)

SCENE 5
Bob sings the Classifying Song with pictures of circles and a triangle.

Muppets
Ernie & Bert — Ernie lies in bed and starts talking about what a square looks like and how many lines it has, then goes on to compare a square with a triangle. He then starts to ponder how many sides a circle has, and goes to sleep. Bert is about to attempt to answer the question, but ends up not being able to sleep.
(First: Episode 0132)

SCENE 6
Maria sings the Classifying Song in Spanish with pictures of triangles and a circle.

Transition
Glass break bridge #12 (0:13)

Muppets
Kermit's Lectures: To demonstrate "through", Kermit tries to get Cookie Monster to run through a piece of tissue paper. Instead, Cookie offers other alternatives, ultimately choosing to go around it. He helps Kermit with his demonstration by passing the tissue paper through Kermit.
(First: Episode 0289)

Cartoon
Alice Braithwaite Goodyshoes teaches about through.
(First: Episode 0001)

Film
Sesame Street Animal Films: The walrus
(First: Episode 0296)

Film
George puts his head through a barrel stave. He also goes through the barn.
(First: Episode 0299)

Cast
Wally and Ralph drop by the laundromat to wash their clothes, but they all don't fit in the washing machine. They try the other one instead, finding the same result. They realize if they split the loads in half, they can make use of both washers. They proceed to rip all their clothing in half.

Muppets
"Five People in My Family"
(First: Episode 0008)

Cartoon
Donnie Budd sings about animals in groups of five on a farm.
Artist: Bud Luckey
(First: Episode 0323)

SCENE 7
Mr. Hooper shows that k is for kettle; David demonstrates that k is for kick; Maria shows that k is for ketchup.

Cartoon
Batman apprehends a criminal thanks to knowing about around, up and through.
(First: Episode 0096)

Film
George the Farmer demonstrates over and under.
(First: Episode 0230)

Cartoon
Two alpine climbers hike up a letter Z and stake a claim on it.
(First: Episode 0281)

Film
Kids narrate footage of humans and animals overcoming obstacles, particularly a boy trying to ride a two-wheeler.
(First: Episode 0132)

Cartoon
Z for zebra and zoo
(First: Episode 0281)

SCENE 8
The sponsors are announced.
Community content is available under
CC-BY-SA
unless otherwise noted.