Sesame Street
Mr. Hooper asks Oscar to take care of the trash in his store
Air date
February 3, 1972
Season
Season 3 (1971-1972)

Sponsors
K, 5

This episode guide has been compiled from materials at the CTW Archives.

ⓘ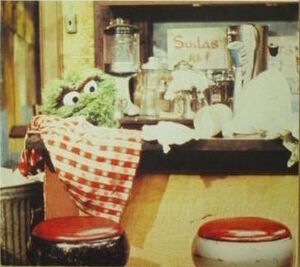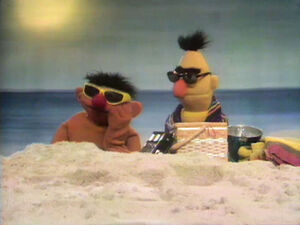 Mr. Hooper tells Oscar that he had a lot of trash in the basement of his store. He asks if Oscar will take care of it for him. Oscar is delighted -- and when Mr. Hooper leaves, Oscar spreads the junk all over the store as if he were a decorator. He thinks the store looks great now! When Mr. Hooper returns, he insists that Oscar take all the trash away, and put it in his trash can. Again, Oscar is delighted.
Maria sings and teaches her friends the Verbena game -- it's like a Spanish "London Bridge".
Grover is carrying the word "HELP". The word is very heavy. He asks Herbert Birdsfoot to help him carry the word. Instead, Herbert gives Grover three more "HELP" words to carry.
Kermit's Lectures: Cookie Monster helps Kermit to demonstrate 'through.' Originally, Kermit plans for Cookie Monster to run through a sheet of tissue paper in a frame, but Cookie stops short. When Kermit tells Cookie that he's trying to demonstrate 'through,' Cookie demonstrates the concept differently - by smashing the tissue paper frame over Kermit's head. (First: Episode 0289)
Mr. Hooper shows that k is for kettle; David demonstrates that k is for kick; Maria shows that k is for ketchup.
Film: Two kids, Kim and David, help each other put on their smocks before painting a picture.
Cartoon: "K" - Kangaroo. A man (voiced by Gary Owens) explains what a kangaroo is, and ends up in the pouch of one. (EKA: Episode 0142)
Cartoon: "K" -- A kitten knits a kerchief, a kite, and a polka-dot mitten.
Bob sings the Classifying Song. Maria later sings it in Spanish.
Ernie lies in bed and starts talking about how a square looks like and how many lines it has, then goes on to compare a a square with a triangle. And then starts to ponder about how many sides a circle has, and goes to sleep just as Bert is about to attempt to answer the question, and ends up not being able to sleep. (EKA: Episode 0239)
Community content is available under
CC-BY-SA
unless otherwise noted.