Sesame Street
Plot
Big Bird gets mad because Lillian won't play with him.
Air date
February 8, 1972
Season
Season 3 (1971-1972)
Sponsors
V, 8

This episode guide has been compiled from materials at the CTW Archives.

ⓘ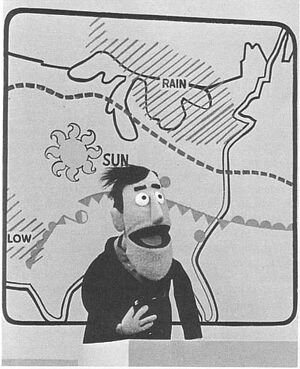 Big Bird is so mad that he confronts Lillian. He says that she won't play with him because she doesn't like him anymore. Lillian explains that she is too old to play baseball, football or basketball, and suggests that she read a book to him. The book is called Boy, Was I Mad!! -- a very appropriate book for the situation.
Two Muppet children, who can only read some words, resolve their fight over a book by helping each other and reading alternate words. (EKA: Episode 0297)
The Muppets sing a song: Before/After.
Guy Smiley, the jolly weatherman, welcomes us to "The Weather Show". Whereas other shows just tell you what the weather is going to be like, Guy Smiley actually brings us the weather right on his stage. He then proceeds to bring us rain, wind and snow.
Some Muppets choose up teams based on who has a letter on his sweatshirt and who has a number on his sweatshirt. (EKA: Episode 0298)
Lillian explains that we can sometimes tell how somebody feels by looking at his face. She then asks the kids to make a mad face. Lillian also explains that another way we can tell how somebody feels is by the tone of his voice. She then says "The weather report says it's going to snow tomorrow" three different ways -- she sounds sad, then happy, and finally mad.
Two Muppets turn the number 8 upside down.
Cartoon: Two men, one named Virgil Veep, discuss the letter V as they stand atop a capital V. (First: Episode 0110)
Film: Elephants in the zoo.
Luis sings the Classifying Song.
Two Anything Muppet waiters keep crashing into each other while trying to get through the same door. They solve the problem by placing "IN" and "OUT" signs on the two doors.
Community content is available under
CC-BY-SA
unless otherwise noted.