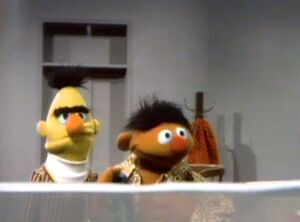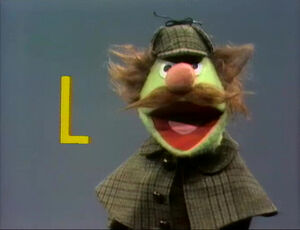 Pete Seeger visits the Street. He leads off by teaching members of the cast the song "Seek and You Shall Find". Between each chorus, a few members of the cast present riddles.
Ernie & Bert — Ernie comes from finishing his bath, and tells Bert that there's something that he forgot. Bert asks if he's washed behind his ears, his neck, and his elbows. Finally, Ernie remembers that he forgot to turn off the water in the tub -- as the water level rises.
Pete Seeger tells a story about an old clock that didn't keep time very well.
Pete Seeger breaks a string on his banjo. He goes to Hooper's store, which is being looked after by Big Bird, in order to buy a replacement. He describes a banjo string to Big Bird -- long, thin, made of metal, looks like wire. After pulling out a piece of plain string and a bicycle chain, Big Bird finds the banjo string.
Pete Seeger and Susan note a couple of blades of grass growing through a crack in the sidewalk. It prompts Pete to play his guitar and sing "God Bless the Grass".
Pete Seeger and some kids play an imagination game.
Luis teaches Pete Seeger a Spanish song.
Pete Seeger sings "My Hat It Has Three Corners" for Oscar.
Pete Seeger, Mr. Hooper, David and some kids sing a work song as they haul some cartons away.
Cartoon: A man jumps into a poster of Lake Lillian.
Cartoon: Today's Secret Drawing - Nurse (Spanish version) (EKA: Episode 0327)
Two Muppet hands argue over a piece of cake before they decide to share it. (EKA: Episode 0235)
Community content is available under
CC-BY-SA
unless otherwise noted.