Sesame Street
Plot
Big Bird sets a spaghetti trap for Mr. Snuffleupagus.
Air date
February 28, 1972
Season
Season 3 (1971-1972)
Sponsors
T, X, 11

This episode guide has been compiled from materials at the CTW Archives.

ⓘ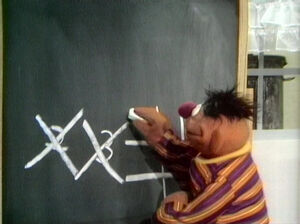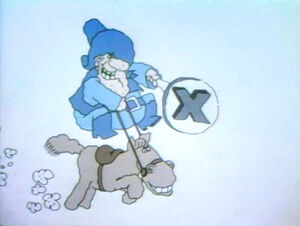 Two Muppet children, who can only read some words, resolve their fight over a large book by helping each other and reading alternate words. (EKA: Episode 0297)
Big Bird cooks a huge supply of spaghetti. He puts some in a line of bowls leading to the door of his nest area, and inside the nest area he puts the rest of the pasta in a large mound. This is meant to coax Mr. Snuffleupagus into the nest area where he will have to take a long time to finish the spaghetti, allowing Big Bird to gather all his other friends so that they may finally see his elusive buddy. Mr. Snuffleupagus comes along and eats the spaghetti, and Big Bird runs off to gather the non-believers of the street. In the meantime, Mr. Snuffleupagus gets so stuffed with spaghetti that he decides to go home to take a nap before Big Bird can return with the adults, Mr. Hooper, Molly, Susan and Luis, who continue to think that the Snuffleupagus is a figment of Big Bird's imagination.
Molly points to the letter X in the word "BOX". Luis points out the X in the word "FIX". Mr. Hooper points out the X in the word "MIX".
Wally and Ralph try to figure out how to set a table. Ralph puts two plates, two cups and two saucers on the table first, leaving Wally with the problem of how to get the tablecloth on under the dishes.
Susan, Molly, Luis, Mr. Hooper and Big Bird play a rhyming game.
Ernie tries to draw an X, but can't figure out how. Bert sees the cross-outs that Ernie has made, and congratulates him on drawing Xs. (First: Episode 0008)
Cartoon: "Poverty X" -- A lecturer explains how X is used at the end of words. (First: Episode 0006)
Split Screen: Before and After
Susan sings the Sorting Song. Luis later sings it in Spanish.
Three Muppet hands count to 11.
Cartoon: A man teaches his dog Rover how to read the word "SIT." (EKA: Episode 0304)
Cartoon: La letra T es para tigre, tomate, taxi, toro, telefono, television, y el terrible tiburon.