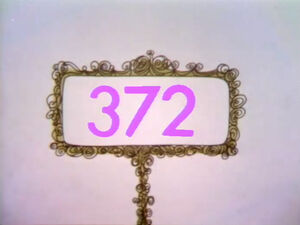 Picture
Segment
Description

SCENE 1
Big Bird rushes to the Fix-It Shop, gives Luis a piece of aluminum pipe, and asks him to bend it so that it looks like a letter C.

Cartoon
C is for clipper... and captain, crew, cargo, cookies, cantaloupe, cabbage, candy, cake, and corks that the crew eats (some by mistake).
(EKA: Episode 0253)

Cartoon
C - Cake
(First: Episode 0153)

Muppets
Monsters, including an early Grover, Cookie Monster and Beautiful Day Monster, pass on the message, "See." The wide shot reveals that the monsters were whispering about the Letter C.
(Caroll Spinney performs Cookie Monster here.)
(First: Episode 0089)

SCENE 2
Oscar the Grouch visits Hooper's Store to pick up a bottle of greasy hair tonic and onion-scented aftershave lotion. Tom wonders what he's up to.

Insert
Scanimate Films #10
(First: Episode 0134)

Film
The Mad Painter #10
(First: Episode 0328)

SCENE 3
Lillian (Vinnette Carroll) notices a "BUS STOP" sign beside Oscar's can, which makes her curious. Oscar, all dressed up (or rather, messed up), reveals that he is all set to go on a date with a new bus driver he has a crush on, and the sign is near his can so that the grouch bus she drives will stop there. The bus does stop there, and the driver, a grouch named Matilda, picks him up, but suddenly the bus motor dies down because it's jammed with mud. Matilda is determined to fix the motor once she gets some tools.

Cartoon
A man gets a letter C in the mail.
(First: Episode 0294)

Celebrity
Bill Cosby counts to 20 with his "twin."
(First: Episode 0135)

SCENE 4
At the Fix-it Shop, Luis helps Matilda figure out which tool she'll need to fix the motor. He explains that neither pliers nor a saw would work. Matilda notices the hammer and uses it to bash out the mud.

Muppets
Ernie & Bert — Part 1: Ernie, having set up shop as a barber, gives Bert a haircut, but he ends up removing all of his hair.
(First: Episode 0068)

Film
A turtle swims in a tank.
Music: Joe Raposo

Cartoon
"Four Seasons"
(First: Episode 0276)

Muppets
Ernie & Bert — Part 2: Ernie tries to disguise Bert until his hair grows back, but a monster (later known as Grover) mistakes Bert for his father and lugs him away.
(First: Episode 0068)

Cartoon
Dot Bridge #14: Dots line up at the same time as some squares who ultimately dominate the board.
(First: Episode 0297)

Cast
Gordon and Bob assemble a letter C.
(First: Episode 0153)

Muppets
Ernie & Bert — Part 3: Bert has quickly grown his hair back, but his brief time amongst monsters has resulted in his speaking like Cookie Monster.
(First: Episode 0068)

SCENE 5
At Hooper's Store, Oscar orders ten egg salad sandwiches for himself. Tom explains that the sandwiches will spoil if he doesn't eat them soon enough, but Oscar doesn't mind.

Cartoon
Jazz #10 (Spanish)
(First: Episode 0306)

Cartoon
Speech Balloon: C - Cap
(First: Episode 0154)

Muppets
Cookie Monster sings "C is for Cookie."

SCENE 6
Luis, Jay, and the kids are playing basketball in the yard when Big Bird hears Mrs. Anguilla's baby crying. Luis gives it a bottle assuming that it's hungry, and Big Bird asks for other reasons why babies might cry because he wants to be a babysitter someday. Luis lists some of them and points out that baby animals also need similar care, introducing the next segment …

Film
Baby animals are fed milk.
(First: Episode 0238)




SCENE 7
Big Bird sits on the steps with Lillian and some kids, pretending to be a babysitter with a doll. Remembering what he learned earlier about why babies cry, Big Bird fetches a hot dog from Willy, multiple blankets, and a baseball and bat for the crying doll. Lillian corrects him on each of these, pointing out that a real baby would prefer a bottle of milk, a small blanket, and a rattle.

Muppets / Cast
The Anything Muppets sing "Before and After." (retaped version)
(First: Episode 0188)

Cast
Part 1: In limbo, and without dialogue save for a voiceover, Tom, Rafael, Gordon, and Bob all try to get a drink of water from the same tap, but they keep arguing and bumping into each other when they all reach for it at the same time. The result is that no one gets a drink of water.
(First: Episode 0292)

Cartoon
Batman and Robin catch the Penguin's gang who has dirty windows, teaching the opposite pairings of clean and dirty.
(First: Episode 0099)

Cast
Part 2: The four men circle the water tap eyeing one another while the voiceover wonders what they will do. One of them holds the tap while the other gets a drink. The voiceover declares that some things are easy when you cooperate.
(First: Episode 0292)

Song
Joe Raposo sings "Weaver Bird."

SCENE 8
Susan and some kids play "Three of These Things" with pictures of a comb, soap, a toothbrush, and a fried egg.

Muppets
Three Anything Muppets (including Farley) wait for a bus at a bus stop. To their surprise, the bus is very small, and two small Muppets get off of it.
(First: Episode 0189)

Cartoon
The word BUS
(First: Episode 0277)

Song
Joe Raposo sings "Everybody Run."

Cartoon
A painter paints all around the screen, eventually painting over himself.
Music: Joe Raposo
(First: Episode 0243)

Cast
Before and after in splitscreen: Tom with a sandwich, Luis giving Bob a haircut, and Susan with a potted plant.
(First: Episode 0316)

Muppets
Ernie & Bert — Ernie shows drawings to Bert, and Bert has to guess what happened. Ernie has a drawing of an empty bird cage with an open door (the bird flew away), and a man lying on the ground with a banana peel next to him (he slipped on it). Then, Ernie shows Bert an empty page. The answer to that one is that there was a cow eating grass, but the grass is all eaten now and the cow went home. (First: Episode 0030)

SCENE 9
Luis demonstrates the use of a coping saw, and displays some wooden letters of the alphabet he's just made. Susan joins him to sing "The Alphabet Song".

Cartoon
An ape escapes from the A train and heads over to a birthday party.
(First: Episode 0293)

Muppets
Two Anything Muppets sing "Me" in both English and Spanish.

Insert
Scanimate Films #10 (repeat)
(First: Episode 0120)

Cartoon
A circle becomes a clock, balloon, sun, etc.
(First: Episode 0358)

Cartoon
C is for clipper... and captain, crew, cargo, cookies, cantaloupe, cabbage, candy, cake, and corks that the crew eats (some by mistake). (repeat)

Muppets
Harvey Kneeslapper looks inside a paper bag and laughs and asks his next victim, "Wanna see?" The man says yes, so Harvey puts a letter C on him.
(First: Episode 0294)

SCENE 10
The kids play in the yard while Susan announces the sponsors.
Community content is available under
CC-BY-SA
unless otherwise noted.