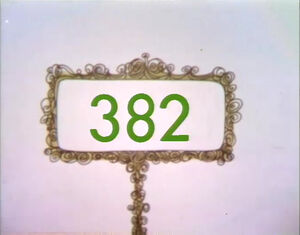 Picture
Segment
Description

SCENE 1
Susan has a sign with her name on it, which she uses to point out the two letter Ss.

Muppets
"Sammy the Snake"
(First: Episode 0278)

Cartoon
S - Serpiente

SCENE 2
Luis sings "Here Are Some Things" in Spanish using various shapes.

Film
Two boys tickle their faces with a flower and feathers.

Muppets
Ernie & Bert — Bert tells Ernie not to eat cookies in bed, because he might get crumbs in the bed. Ernie decides to eat cookies in Bert's bed instead.
(First: Episode 0282)

SCENE 3
Tom traces noisy building sounds to Oscar's trash can, where Oscar is hard at work on a new invention. Although it's not finished yet, he presents his new creation - an Automatic Grouch that can take his place on the street should he not be present. Tom tests it by asking a question about ice cream and the machine gives him a typical, grouchy reply.

Cartoon
"Martian Beauty" has nine hairs, nine bows, nine eyes, nine nostrils, nine arms, and nine toes.
Artist: Bud Luckey
(First: Episode 0316)

Cartoon
B is for bear, bicycle, bump, branch and bee.
(First: Episode 0008)

SCENE 4
Molly, Susan, and Luis experience first-hand how Oscar's automated Grouch functions while he steps out. They are taken aback by the experience.

Cartoon
Jack waters a B, which grows into a B-stalk. He climbs it and travels to the Land of B.
(First: Episode 0277)

Muppets
Muppet & Kid Moment — Cookie Monster and Genelle count to twenty.
(First: Episode 0289)

SCENE 5
The adults convene at Hooper's Store to talk about how awful Oscar's automatic Grouch acts, even compared to a Grouch like Oscar. Luis gets an idea and they return to the trash can. When the robot emerges, Luis is able to reprogram it to act nice and kind.

Cartoon
Birds appear around the numerals one through twenty as jazz music plays.
Artists: The Hubleys
(First: Episode 0134)




SCENE 6
Oscar returns home and is appalled to hear his creation talking about how lovely his day was. Luis admits to tinkering with the robot. Oscar tries to undo Luis' work by ripping out some wires, which cause it to smoke, pop, and ultimately break down. Oscar isn't deterred, as he now has a new piece of junk to put on his mantle.

Cartoon
Dot Bridge #9: Dot can't stop coughing, and next dot leaves
(First: Episode 0295)

Muppets
Tony sings "Windy" to his girlfriend, Beautiful Day Monster.
(First: Episode 0074)

Cartoon
Dot Bridge #10: Eighth dot is small, but receives a kiss
(First: Episode 0295)
Muppets
Story: Bob reads "The King and the Fireman", a story about a king who becomes so grateful for being saved by a fireman that he decides to make everyone in the kingdom a firefighter... and soon realizes what a mistake he's made.
(First: Episode 0278)

Cast
A man with a British accent narrates a limbo sketch in which Gordon and Bob share bubbles and a book.
(First: Episode 0316)

Cartoon
S is for subway, sailboat, sled, scooter, skates, skis, and stop.
Artists: The Hubleys
(First: Episode 0279)




SCENE 7
The cast shows S words. Luis uses his skates. Molly rides on the tire swing. Tom pours salt on his burger, but the top of the shaker falls off and covers the whole thing in salt; now, he's sad.

Cartoon
A sprightly seal tells the story of six silly sailors who split up on a see-saw.
Artist: Tee Collins
(First: Episode 0002)

Muppets
Granny Fanny Nesselrode receives a query from a viewer as to why she never answers their telephone calls. She proves to be very inept at such a simple task.

Animation
Kids narrate a variety of shapes that come together to form an ice cream cone, a bird, a clown, a mouse, a carriage, a man, a sailboat, a lady, a dog, an umbrella, a cat, a face, a train, a see-saw, and a lollipop.
(First: Episode 0284)




Muppets
Bob sings "The People in Your Neighborhood" with teachers and a newsdealer.
(First: Episode 0276)

Cartoon
Things that are same and different.
(First: Episode 0300)

Muppets
Ernie & Bert — Bert asks who Ernie is decorating the room for. It turns out to be the viewer at home.
(First: Episode 0352)

SCENE 8
Molly and the kids look at themselves in funhouse mirrors. One mirror makes them look tall, like giraffes...

Film
Sesame Street Animal Films: a herd of giraffes move their way through a field.
(First: Episode 0316)

Cartoon
Superman demonstrates the letter S and some of the words it stands for.
(First: Episode 0136)

Film
The Mad Painter #9
(First: Episode 0338)

Muppets
Ernie & Bert — Ernie doesn't want to disturb Bert as he reads the newspaper, so he intends to write down what he needs to say. He interrupts Bert anyhow to ask how to spell the word "HELP," then to make sure his sign is correct. Bert suddenly becomes concerned that Ernie needs his help, but it turns out that Ernie has made a "Help Yourself" sign in regards to a plate of cookies he's prepared.
(First: Episode 0287)

SCENE 9
Susan and the kids play "One of These Things" using books of different sizes, then go the library.

Muppets
Grover is carrying the word "HELP", which is very heavy. He asks Marty to help him carry the word. Instead, Marty gives Grover three more "HELP" words to carry.
(First: Episode 0287)

Cartoon
S is for snow, Santa, and sleigh.
(First: Episode 0134)

Muppets
An Anything Muppet girl adds 4 galletitas (cookies) in Spanish. Cookie Monster interrupts, then eats all the cookies when he learns the Spanish meaning.
(First: Episode 0327)

Cartoon
B is for bear, bicycle, bump, branch and bee. (repeat)

Cartoon
A voice asks a face if it's aware of the letter S, and it is revealed that the face belongs to a snake.
Artists: The Hubleys
(First: Episode 0278)

SCENE 10
The kids play in front of the mirrors as Susan announces the sponsors.