Sesame Street
Oscar realizes his trash can is missing; Big Bird has a splinter in his foot.
Air date
April 21, 1972
Season
Season 3 (1971-1972)

Sponsors
O, V, 6

This episode guide has been compiled from script materials provided by a trusted source.

ⓘ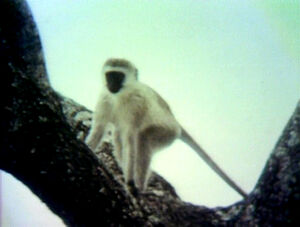 Picture
Segment
Description

SCENE 1
Tom greets the viewer, then has the kids look around for circles inside Hooper's Store. They see the letter O in the word SODA.

Cartoon
O limerick
(First: Episode 0146)

Cartoon
A guru counts to twenty.
(First: Episode 0276)

SCENE 2
Oscar comes home with some groceries, asking Susan to help him put them into his can – but his can is missing! Where did it go?

Film
The Mad Painter #6
(First: Episode 0335)

SCENE 3
Susan, Maria, Bob and Tom try to figure out what happened to Oscar's can. Suddenly, the new garbageman, Charlie (Donald C. Moore), brings a shiny new trash can for Oscar. Maria explains to Charlie that Oscar would rather have his old can back, and Charlie agrees to take Oscar to the dump to get some of his stuff back.

Animation
The Queen of Six explores her garden.
(First: Episode 0223)

Cartoon
Things say that other things are small, but then something comes along that's bigger, or smaller, or whatever.
(First: Episode 0320)

SCENE 4
Oscar and Charlie return from the dump with Oscar's old can, as well as cartons of Oscar's junk, including a broken chair, broken records, and an old boot. Charlie wonders what he'll do with the shiny new can. Bob has an idea: put trash in it!

Cartoon
An O rolls over and over a horse. The horse eats the O.
Artist: John Paratore
(First: Episode 0173)

Muppets
"Would You Like to Buy an O?"
(First: Episode 0364)

Cast
Bob and Gordon assemble a large O with two separate pieces.
(First: Episode 0111)

Film
Sesame Street Animal Films: Lemurs rest on tree branches.
Music: Joe Raposo

Muppets
Farley goes to the hat shop. (short take)
(First: Episode 0244)

Muppets
A boy watches a circle around him get bigger and smaller.
(First: Episode 0285)

Film
Sesame Street Animal Films: Lions walk down a trail.
Music: Joe Raposo
(First: Episode 0367)

Muppets
Ernie & Bert — Ernie can't decide which of the two different shelves he should place a large vase on, so Bert tells him to use his imagination. Ernie imagines the vase falling off the little shelf and Bert kicking him out of the apartment. Then, Ernie imagines putting the vase on the big shelf, and Bert rewarding him with a big surprise party.
(First: Episode 0277)

SCENE 5
Oscar sings "I Don't Wanna".

Muppets
Grover's rowboat - part 1
Grover and a group of monsters, including Herry Monster, Fenwick and Billy, get into a rowboat. The monsters all gather at one end, causing the boat to tip over and sink.
(First: Episode 0281)

Cartoon
Vitamins give vim, vigor and vitality to a droopy V
Artist: John Hubley
(First: Episode 0311)

Muppets
Grover's rowboat - part 2
The monsters gather on the other end of the boat, and it sinks again.
(First: Episode 0281)

Cartoon
Two men, one named Virgil Veep, discuss the letter V as they stand atop a capital V.
(First: Episode 0110)

Muppets
Grover's rowboat - part 3
The monsters finally spread out over the boat evenly, and row away.
(First: Episode 0281)

Cartoon
Donnie Budd counts six snails, six ships, and six whales.
Artist: Bud Luckey
(First: Episode 0324)

SCENE 6
Tom has the kids make happy and sad faces, then shows them some circles with faces on them.

Cartoon
"I'm six years old today!"
Artist: Jim Simon
(First: Episode 0357)

Film
Through close-ups, children identify mushrooms.
(First: Episode 0357)

Cast
Wally and Ralph buy a large jar of glue. The jar was unlabeled, so they get a label reading "Glue". But they cannot figure out how to get the label to stick to the jar. At one point, they accidentally spill some glue on the table; they use the label to wipe it up. Still with no solution, they decide to go out to dinner. So they put the label somewhere (on the jar!) and leave.

Cartoon
La letra O - opera, oeste, orquidea, ojos, ocho, y el orquestra de orangutanes.
(First: Episode 0338)

Film
Letter O hoist
Music: Joe Raposo
(First: Episode 0338)

SCENE 7
Maria encounters Big Bird limping in pain; he has a splinter in his foot. Big Bird ponders what will happen if he lets Maria remove it, and what will happen if she doesn't. He ultimately decides to let her remove it.

Muppets
Kermit the Frog counts six happy little Twiddlebugs, and when he is finished, the Twiddlebugs have a party.
(First: Episode 0280)

SCENE 7
cont'd
At Hooper's, Tom lends his first aid kit to help remove Big Bird's splinter. Maria uses a match to sterilize the needle, then wipes it off with alcohol and a cotton ball. Tom assists by rubbing an ice cube on the affected area of Big Bird's foot. Maria removes the splinter, then dabs his wound with iodine and gives him a band-aid. Big Bird feels better now.

Muppets
Roosevelt Franklin says his ABCs.
(First: Episode 0103)

Cartoon
A song about a rolling O
Artists: The Hubleys
(First: Episode 0011)

Muppets
Muppet & Kid Moment — Big Bird and Shola demonstrate a big stick versus a little stick.
(First: Episode 0306)

SCENE 8
Susan shows some kids a picture with some hidden rabbits.

Film
Sesame Street Animal Films: Jack Rabbit
Music: Joe Raposo

Cast
A Howard Cosell-type voice narrates Terrific Tom jumping over chairs.
(First: Episode 0315)

Cartoon
A cowboy tries to lasso a rolling letter O.
(First: Episode 0286)

Cartoon
An O rolls over and over a horse (repeat)

Cartoon
Country 6 (repeat)

SCENE 9
The sponsors are announced and the credits roll.