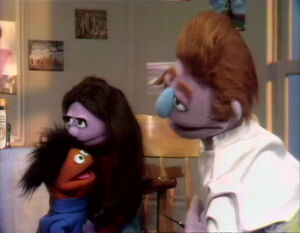 Film: A baby messes around (literally) with a chocolate cookie, as Cookie Monster (in voice-over) wishes it were for him.
Three witches attempt their own individual spells, which don't work out to their liking. They decide to cooperate by bringing all of their ingredients together, thus making chicken soup.
Cartoon: A story of a man who hates frogs, until his swamp becomes infested with flies. (First: Episode 0387)
The Martians discover a grandfather clock and wonder if it's an Earth person. They consult their book, which says a person is tall, has a face, and has hands. The clock fits the description perfectly. But then the grandfather clock begins chiming the hour, frightening the Martians.
Juanita helps her brother Angel overcome his fear of a haircut.
Community content is available under
CC-BY-SA
unless otherwise noted.