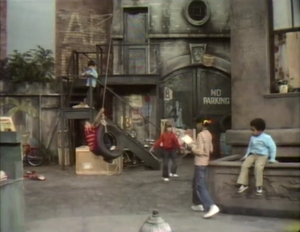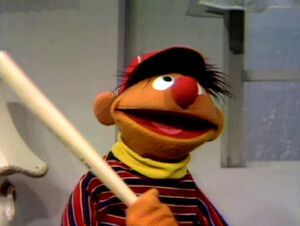 Oscar adopts a pet skunk, much to everyone's disgust.
Japanese Stories: The Emperor of Japan is dissatisfied with the sound his gong makes. He calls the imperial gong delivery man, that present different gongs for his approval. They're either too loud or too soft, however, until the imperial gong delivery man uses his own head as a gong.
Cartoon: A girl wonders what would happen if she popped her balloon. She imagines it would scare her sister, who would end up breaking a vase and getting in trouble. (EKA: Episode 0300)
Cartoon: Jasper thinks that he has lost his elbow, but Julius shows him his elbow by bending his arm.
Ernie & Bert — Ernie is sad, because it's raining and he can't play baseball. Bert encourages him to imagine that he's playing instead. In Ernie's imagination, he hits a high fly ball that lands in the ocean. Bert tells Ernie that the sun is out, and he can go out and play now. Ernie says that he can't play -- his ball fell in the ocean.
Susan announces the sponsors.
Notes
Community content is available under
CC-BY-SA
unless otherwise noted.