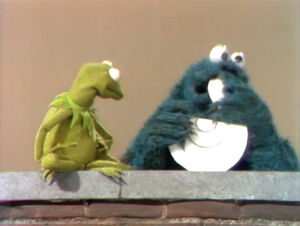 Cartoon: A showcase of things that begin with A, ending with avalanche and ambulance. (shown in English and Spanish) (EKA: Episode 0132)
Cartoon: A man displays the capital and lowercase A, and explains what an alligator is. (First: Episode 0006)
Kermit and Cookie Monster demonstrate what it is to be happy, angry and sad. Kermit gets angry when Cookie Monster eats the happy face that Kermit provided, Cookie Monster feels sad when Kermit threatens to tell Cookie's mommy what he did, and that makes Kermit happy because he was able to do his demonstration without the tasty Styrofoam faces. (First: Episode 0066)
Ernie asks Bert to go play in the park with him. When Bert says "no", Ernie wonders if he isn't feeling well, and starts to examine him. (First: Episode 0124)
As ominous music plays, The Count walks around his castle, checks out the mirror (he has no reflection), and greets his bats. The mailman (Jim Henson) arrives, with a bunch of letters for him. He wonders why there are so many. The Count says that he wrote them all himself, so he could count them...and then he does.
Cartoon: B is for Bongo Beat, Bandit, and Bottles of wine. (EKA: Episode 0303)
Film: Squares are shown in close-up.
The Mad Painter's quest to paint a 5 leads to the zoo, and a gorilla. He finds something to paint his 5 on, and it's a big yellow ball. Even the gorilla helps him out, and they give each other a "5." (First: Episode 0345)