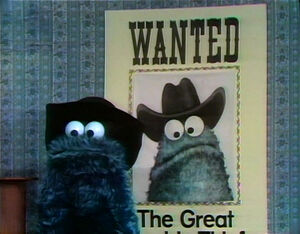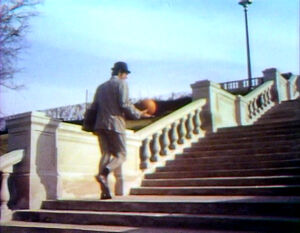 Sam the Robot attempts to produce a handball for Susan and a kid to play with. It takes so long to produce the right ball that they haven't any time left to play.
Old West sketches: Four Anything Muppet cowboys put up a Wanted poster for "the Great Cookie Thief", who's been stealing cookies from all the bakeries in these here parts. Cookie Monster is standing in front of the poster, and the others suspect that he's the Great Cookie Thief -- he has the same googly eyes, the same blue fur, and the same Western hat. They confront Cookie Monster, but he denies the charge: "Not have same mustache!" He shouts, "Look over there!" -- and while they're distracted, he draws a mustache on the poster. They apologize -- but then Cookie Monster takes off his hat, and cookies fall out. The Great Cookie Thief makes his escape. (First: Episode 0276)
Cartoon: Bumble Ardy invites pigs to his birthday party. (EKA: Episode 0305)
Big Bird has trouble painting a garage roof.
Film - A man bounces a ball up the steps, and then it falls down the steps. (Music:Joe Raposo)
Community content is available under
CC-BY-SA
unless otherwise noted.