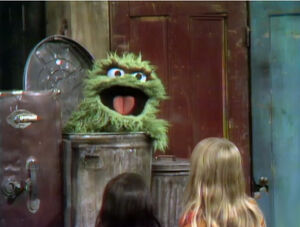 Loud crashes and bangs are coming from inside Oscar's trash can. Luis and Susan ask what's going on, and Oscar says that he's making something he likes... noise.
Oscar invents a noise machine; everyone else hates it.
When some kids invite Oscar to play with them, Oscar answers by singing "I Don't Wanna."
Susan plays the sorting game using dotted cards.
Three Witches attempt their own individual spells, which don't work out to their liking. They decide to cooperate by bringing all of their ingredients together, thus making chicken soup. (First: Episode 0407)
Cartoon: Nancy the nanny goat nibbles her nails and notices noodles. (First: Episode 0240)
Film: A group of Oriental children demonstrate the concept of in and out, by climbing in and out of a gigantic tire.
Community content is available under
CC-BY-SA
unless otherwise noted.